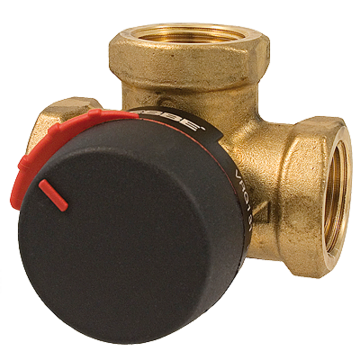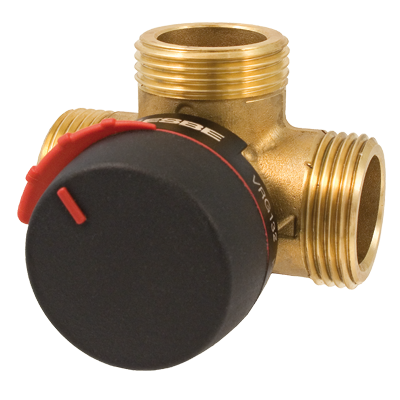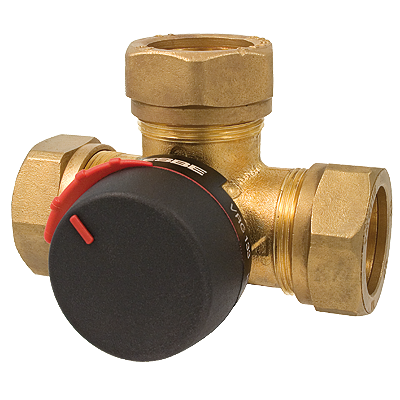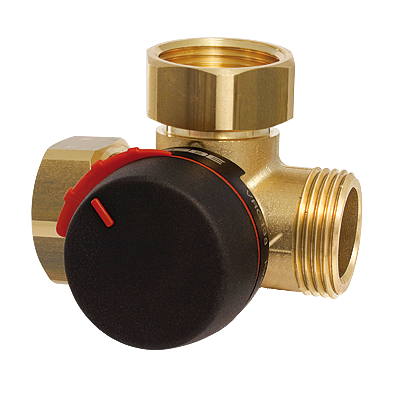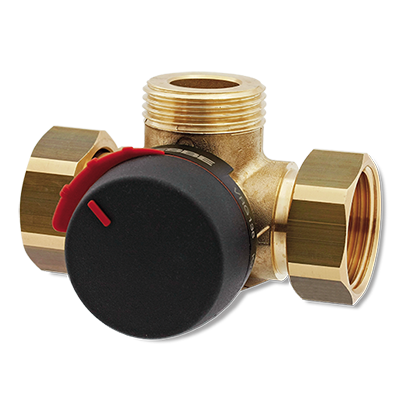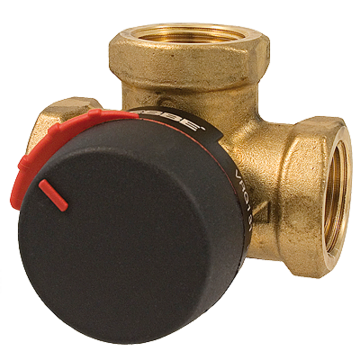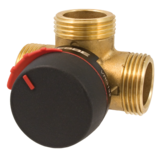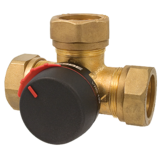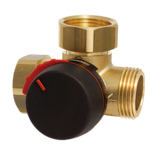 Mixing valve
VRG130
Superb regulation for highest performance.
Lowest internal leakage on the market (< 0,05%).
Compact, flexible and easy to install.
Long lasting and high durability.
Perfect match between the valve and ESBE actuators.
Series VRG130 are 3-way valves suitable for mixing or diverting operation. The valves are made of high-performing brass allowing use in heating and cooling installations. The VRG series is available in DN15-50 and comes with different types of connections to suit most pipe dimensions. The valve is perfectly combined with ESBE actuators and controllers.
Product range
VRG131, Internal thread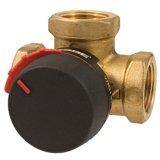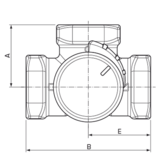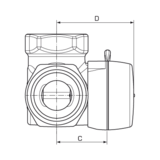 | | | | | | | | | | | | | |
| --- | --- | --- | --- | --- | --- | --- | --- | --- | --- | --- | --- | --- |
| Art.no. | Reference | DN | Kvs | Connection | A [mm] | B [mm] | C [mm] | D [mm] | E [mm] | Weight [kg] | Replaces | Note |
| 11600100 | VRG131 | 15 | 0,4 | Rp ½" | 36 | 72 | 32 | 50 | 36 | 0,40 | | |
| 11600200 | VRG131 | 15 | 0,63 | Rp ½" | 36 | 72 | 32 | 50 | 36 | 0,40 | 11000200 | |
| 11600300 | VRG131 | 15 | 1 | Rp ½" | 36 | 72 | 32 | 50 | 36 | 0,40 | 11000300 | |
| 11600400 | VRG131 | 15 | 1,6 | Rp ½" | 36 | 72 | 32 | 50 | 36 | 0,40 | 11000400, 11000500 | |
| 11600500 | VRG131 | 15 | 2,5 | Rp ½" | 36 | 72 | 32 | 50 | 36 | 0,40 | 11000100 | |
| 11600600 | VRG131 | 15 | 4 | Rp ½" | 36 | 72 | 32 | 50 | 36 | 0,40 | | |
| 11600700 | VRG131 | 20 | 2,5 | Rp ¾" | 36 | 72 | 32 | 50 | 36 | 0,43 | | |
| 11600800 | VRG131 | 20 | 4 | Rp ¾" | 36 | 72 | 32 | 50 | 36 | 0,43 | 11000700 | |
| 11600900 | VRG131 | 20 | 6,3 | Rp ¾" | 36 | 72 | 32 | 50 | 36 | 0,43 | 11001100, 11050100 | |
| 11601000 | VRG131 | 25 | 6,3 | Rp 1" | 41 | 82 | 34 | 52 | 41 | 0,70 | 11001600 | |
| 11601100 | VRG131 | 25 | 10 | Rp 1" | 41 | 82 | 34 | 52 | 41 | 0,70 | 11002400, 11050200 | |
| 11601200 | VRG131 | 32 | 16 | Rp 1¼" | 47 | 94 | 37 | 55 | 47 | 0,95 | 11002700, 11050300 | |
| 11603400 | VRG131 | 40 | 25 | Rp 1½" | 53 | 106 | 44 | 62 | 53 | 1,68 | 11050400, 11601300 | |
| 11603600 | VRG131 | 50 | 40 | Rp 2" | 60 | 120 | 46 | 64 | 60 | 2,30 | 11050600, 11601400 | |
VRG132, External thread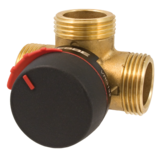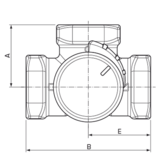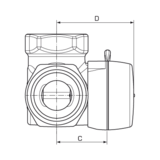 | | | | | | | | | | | | | |
| --- | --- | --- | --- | --- | --- | --- | --- | --- | --- | --- | --- | --- |
| Art.no. | Reference | DN | Kvs | Connection | A [mm] | B [mm] | C [mm] | D [mm] | E [mm] | Weight [kg] | Replaces | Note |
| 11601500 | VRG132 | 15 | 0,4 | G ¾" | 36 | 72 | 32 | 50 | 36 | 0,40 | | |
| 11601600 | VRG132 | 15 | 0,63 | G ¾" | 36 | 72 | 32 | 50 | 36 | 0,40 | | |
| 11601700 | VRG132 | 15 | 1 | G ¾" | 36 | 72 | 32 | 50 | 36 | 0,40 | | |
| 11601800 | VRG132 | 15 | 1,6 | G ¾" | 36 | 72 | 32 | 50 | 36 | 0,40 | | |
| 11601900 | VRG132 | 15 | 2,5 | G ¾" | 36 | 72 | 32 | 50 | 36 | 0,40 | | |
| 11602000 | VRG132 | 15 | 4 | G ¾" | 36 | 72 | 32 | 50 | 36 | 0,40 | | |
| 11602100 | VRG132 | 20 | 2,5 | G 1" | 36 | 72 | 32 | 50 | 36 | 0,43 | | |
| 11602200 | VRG132 | 20 | 4 | G 1" | 36 | 72 | 32 | 50 | 36 | 0,43 | | |
| 11602300 | VRG132 | 20 | 6,3 | G 1" | 36 | 72 | 32 | 50 | 36 | 0,43 | 11001300 | |
| 11602400 | VRG132 | 25 | 6,3 | G 1¼" | 41 | 82 | 34 | 52 | 41 | 0,70 | | |
| 11602500 | VRG132 | 25 | 10 | G 1¼" | 41 | 82 | 34 | 52 | 41 | 0,70 | 11002600 | |
| 11602600 | VRG132 | 32 | 16 | G 1½" | 47 | 94 | 37 | 55 | 47 | 0,95 | 11002900 | |
| 11603500 | VRG132 | 40 | 25 | G 2" | 53 | 106 | 44 | 62 | 53 | 1,69 | 11602700 | |
| 11603700 | VRG132 | 50 | 40 | G 2¼" | 60 | 120 | 46 | 64 | 60 | 2,30 | 11602800 | |
VRG133, Compression fitting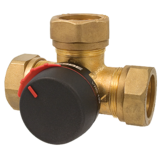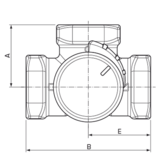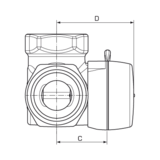 | | | | | | | | | | | | |
| --- | --- | --- | --- | --- | --- | --- | --- | --- | --- | --- | --- |
| Art.no. | Reference | DN | Kvs | Connection | A [mm] | B [mm] | C [mm] | D [mm] | E [mm] | Weight [kg] | Replaces |
| 11602900 | VRG133 | 20 | 4 | CPF 22 mm | 36 | 72 | 32 | 50 | 36 | 0,40 | |
| 11603000 | VRG133 | 20 | 6,3 | CPF 22 mm | 36 | 72 | 32 | 50 | 36 | 0,40 | 11002100 |
| 11603100 | VRG133 | 25 | 10 | CPF 28 mm | 41 | 82 | 34 | 52 | 41 | 0,45 | 11002300 |
VRG138, Rotating nut and external thread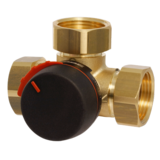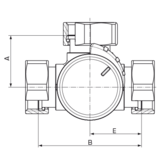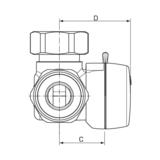 | | | | | | | | | | | | |
| --- | --- | --- | --- | --- | --- | --- | --- | --- | --- | --- | --- |
| Art.no. | Reference | DN | Kvs | Connection | A [mm] | B [mm] | C [mm] | D [mm] | E [mm] | Weight [kg] | Replaces |
| 11603800 | VRG138 | 20 | 4 | 2x RN 1" + G 1" | 36 | 72 | 32 | 50 | 36 | 0,56 | |
| 11604100 | VRG138 | 20 | 6,3 | 3x RN 1" | 36 | 72 | 32 | 50 | 36 | 0,59 | 11001500 |
Installation support
How to install ARA600 actuator on VRG valve
Flow through VRGxx0 valve
Characteristic graph, VRGxx0 valves
50% valve position in VRGxx0 valves
Operation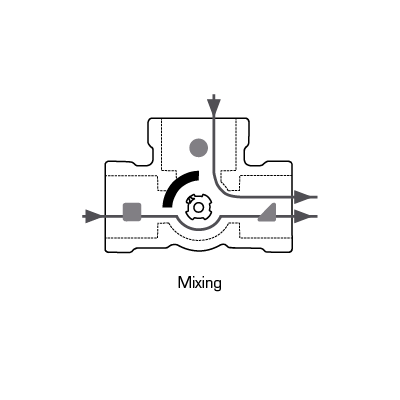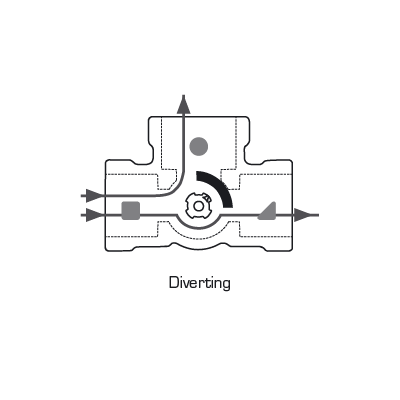 Installation examples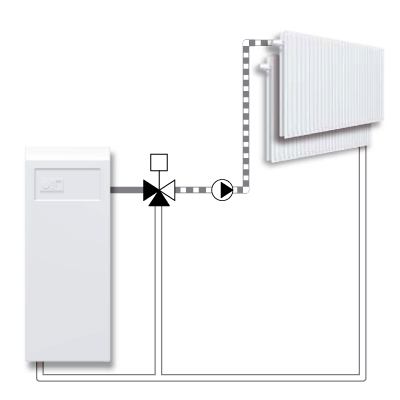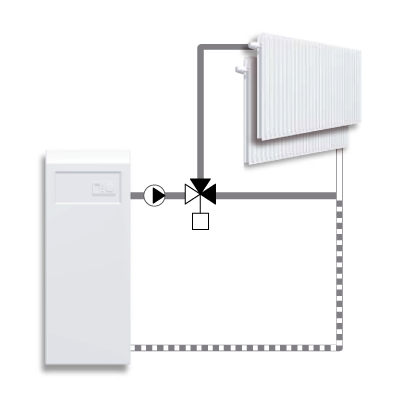 Technical data
Technical data
Pressure class:
PN10
Torque (at nominal pressure):
DN15-32: < 3 Nm;
DN40-50: < 5 Nm
Leakrate in % of flow:
Mixing: <0,05%;
Diverting: <0,02%
Working pressure:
1 MPa
max. Differential pressure drop, Mixing:
100 kPa
max. Differential pressure drop, Diverting:
200 kPa
Close off pressure:
200 kPa
Rangeability Kv/Kv min, A-AB:
100
Media, Heating water:
in accordance with VDI2035
Media, Water/Glycol mixtures:
max. 50 %
Media, Water/Ethanol mixtures:
max. 28 %
Media temperature, max. continuosly:
+110 °C
Media temperature, max. temporarily:
+130 °C
Media temperature, min.:
-10 °C
Connections, Internal thread (Rp):
EN 10226-1
Connections, External thread (G):
ISO 228/1
Connections, Compression fitting (CPF):
EN 1254-2
Material, Valve body:
Dezincification resistant brass, DZR
Material, Slide:
Abrasion resistant brass
Material, Shaft and bushing:
PPS composite
Material, O-rings:
EPDM
Conformity


Valve characteristics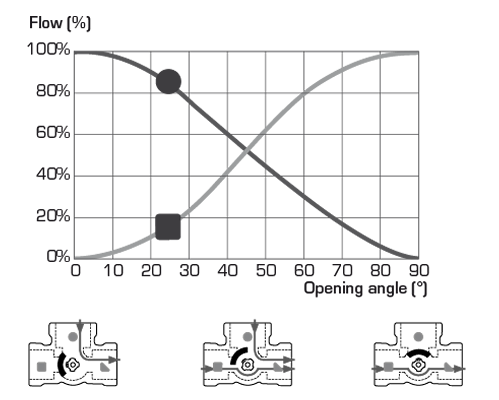 Dimensioning
Accessories and spare parts
Download area
| | | |
| --- | --- | --- |
| Type | Preview | Download |
| Data sheet | VRG130 | |
| Installation instruction | VRG130 | |
| Certificate | Declaration of Conformity, VRG130 | |
| Certificate | Declaration of Conformity UKCA, VRG130 | |
| Certificate | Building Product Declaration BPD3, VRG130 | |
| Certificate | EAC certificate (RU), VRG130 | |
| Certificate | UKRSEPRO certificate (UA), VRG130 | |
| Approval | PZH-certificate (PL), VRG130 | |
| Image | VRG131, high res | |
| Image | VRG132, high res | |
| Image | VRG133, high res | |
| Image | VRG138_1, high res | |
| Image | VRG138_2, high res | |
| 2D Image | VRG130 | |
| 2D Image | VRG138 | |
| 3D drawing (stp file) | VRG131, DN15 | |
| 3D drawing (stp file) | VRG132, DN15 | |
| 3D drawing (stp file) | VRG131, DN20 | |
| 3D drawing (stp file) | VRG132, DN20 | |
| 3D drawing (stp file) | VRG133, DN20 | |
| 3D drawing (stp file) | VRG138, DN20 | |
| 3D drawing (stp file) | VRG131, DN25 | |
| 3D drawing (stp file) | VRG132, DN25 | |
| 3D drawing (stp file) | VRG133, DN25 | |
| 3D drawing (stp file) | VRG131, DN32 | |
| 3D drawing (stp file) | VRG132, DN32 | |
| 3D drawing (stp file) | VRG131, DN40 | |
| 3D drawing (stp file) | VRG132, DN40 | |
| 3D drawing (stp file) | VRG131, DN50 | |
| 3D drawing (stp file) | VRG132, DN50 | |