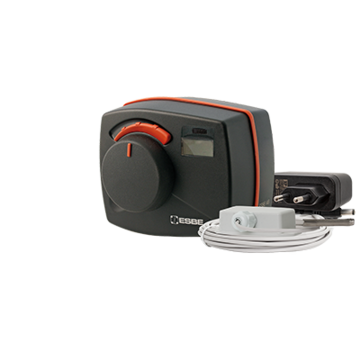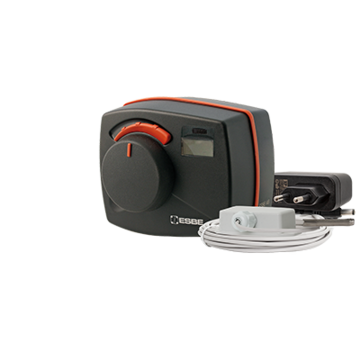 Controller
CRC200
Outdoor temperature compensated Controller
ESBE Smart Software and Self-Adaptive System
Low noise level
Accurate and precise control
Constant temperature working mode available
Possible upgrade to room temperature controller
Possible upgrade to combined outdoor and room temperature controller
Possible upgrade to pump control (ON/OFF)
Possible remote control via room unit (accessory)
The Series CRC200 is a weather compensated Controller with integrated actuator dedicated for ESBE Rotary valves Series VRG.
The Controllers Series CRC200 are equipped with ESBE Smart Software and Self-Adaptive System which not only increase the performance of the device but allows to upgrade the Controller to room temperature or combined temperature control working principle.
The Controller can also be used as a constant temperature Controller. If remote control is required, a room unit for settings can be connected.
Product range
CRC210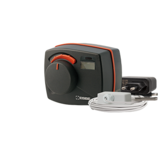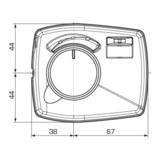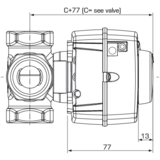 | | | | | | |
| --- | --- | --- | --- | --- | --- |
| Art.no. | Reference | Voltage [V AC] | Torque [Nm] | Weight [kg] | Replaces |
| 12821100 | CRC211 | 230 | 6 | 1,1 | 12820100 |
Installation support
Install ESBE Controller - CRC200
Change opening direction – ESBE Controllers (CRx200)
Change target temperature – ESBE Controllers (CRx200)
Change maximum/minimum flow temperature – ESBE Controllers (CRx200)
Use your room unit as a remote control - ESBE Controller CRC200
External activation of T2 – ESBE Controllers (CRx200)
Install radio module for wireless communication – ESBE Controller CRC200
Configure ESBE Controller CRC200
Upgrade your ESBE Controller – CRA200 to CRC200
Upgrade your ESBE Controller – CRB200 to CRC200
Upgrade your ESBE Controller – CRC200 to CRB200
Upgrade your ESBE Controller – CRC200 to CRD200
Installation examples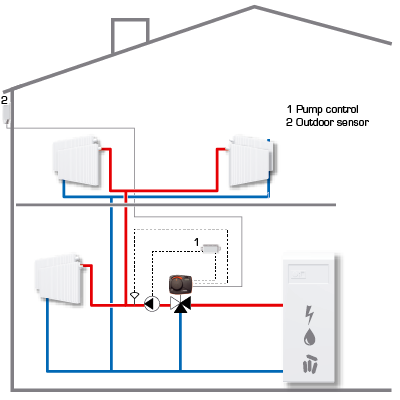 Technical data
Technical data
| | |
| --- | --- |
| Sensors: | Temperature sensor type NTC |
| Enclosure rating: | IP41 |
| Protection class: | II |
| Power supply: | 230 ± 10% V AC, 50 Hz |
| Power consumption: | 10 VA |
| Torque: | 6 Nm |
| ERP temperature controls class: | III |
| Energy efficiency contribution: | 1,5 % |
| Running time at max. speed: | 30 s |
| Weight: | 1,1 kg |
| Supplied parts: | • Actuator with integrated controller |
| | • Flow temperature sensor |
| | • EU adapter 230V |
| | • Outdoor sensor |
| | • Communication cable between outdoor sensor and actuator |
| Ambient temperature, max.: | +50 °C |
| Ambient temperature, min.: | +5 °C |
| Temperature range, Flow temperature sensor: | +5 to +95 °C |
| Temperature range, Outdoor sensor: | -50 to +70 °C |
Conformity




Wiring
Accessories and spare parts
Adaptor Kits
| | | | | | | |
| --- | --- | --- | --- | --- | --- | --- |
| | Art No. | Reference | Designation | Note | Data sheet | Instruction manual |
| | 16000500 | ARA803 | ESBE ARA803 Adaptor kit ESBE valves series VRx, MG, G, F, BIV, H, HG. | Series ARA600, CRA110, CRA140, CRA150, CRB100, CRC110, CRC140, CRD120, CRS130. | | |
| | 16000600 | ARA805 | ESBE ARA805 Adaptor kit Meibes valves. | Series ARA600, CRA110, CRA140, CRA150, CRB100, CRC110, CRC140, CRD120, CRS130. Order separately. | | |
| | 16000700 | ARA807 | ESBE ARA807 Adaptor kit Watts valves. | Series ARA600, CRA110, CRA140, CRA150, CRB100, CRC110, CRC140, CRD120, CRS130. Order separately. | | |
| | 16000800 | ARA806 | ESBE ARA806 Adaptor kit Honeywell Centra Corona valves, series V5433A, V5433G, V5442A, V5442G. | Series ARA600, CRA110, CRA140, CRA150, CRB100, CRC110, CRC140, CRD120, CRS130. Order separately. | | |
| | 16000900 | ARA808 | ESBE ARA808 Adaptor kit Lovato valves. | Series ARA600, CRA110, CRA140, CRA150, CRB100, CRC110, CRC140, CRD120, CRS130. Order separately. | | |
| | 16001000 | ARA809 | ESBE ARA809 Adaptor kit PAW valves. | Series ARA600, CRA110, CRA140, CRA150, CRB100, CRC110, CRC140, CRD120, CRS130. Order separately. | | |
| | 16001100 | ARA810 | ESBE ARA810 Adaptor kit WITA valves Minimix, Maximix, H10, H9GG, H9MS. | Series ARA600, CRA110, CRA140, CRA150, CRB100, CRC110, CRC140, CRD120, CRS130. Order separately. | | |
Spare parts
| | | | | | | |
| --- | --- | --- | --- | --- | --- | --- |
| | Art No. | Reference | Designation | Note | Data sheet | Instruction manual |
| | 17053100 | CRA911 | ESBE CRA911 Flow pipe sensor, 5m cable | | | |
| | 17055300 | CRB912 | ESBE CRB912 Room unit, cable | | | |
| | 17055500 | CRB913 | ESBE CRB913 Room unit, wireless | | | |
| | 17055700 | CRB914 | ESBE CRB914 Communication cable, 20m | | | |
| | 17056000 | CRC911 | ESBE CRC911 Outdoor sensor | | | |
| | 17056200 | CRA915 | ESBE CRA915 UK Plug 230V-12V | | | |
| | 17056300 | CRA911 | ESBE CRA911 EU plug 230V-12V | | | |
Download area
| | | |
| --- | --- | --- |
| Type | Preview | Download |
| Data sheet | CRC200 | |
| Installation instruction | CRC200 - Assembly | |
| Installation instruction | CRC200 (de, en, fi, fr, it, pl, ru, sv) | |
| Installation instruction | CRC200 (cs, da, es, gr, hr, ro, tr) | |
| Certificate | Declaration of Conformity CE, CRC200 | |
| Certificate | Declaration of Conformity UK CA, CRC200 | |
| Certificate | Building Product Declaration BPD3, CRC200 | |
| Certificate | EAC certificate | |
| Certificate | UKRSEPRO certificate (UA) | |
| Image | CRC211, high res | |
| Image | CRC911 Outdoor sensor, high res | |
| 2D Image | CRC210 | |
| 3D drawing (stp file) | CRC210 | |
| 3D drawing (stp file) | CRC911 Outdoor sensor | |