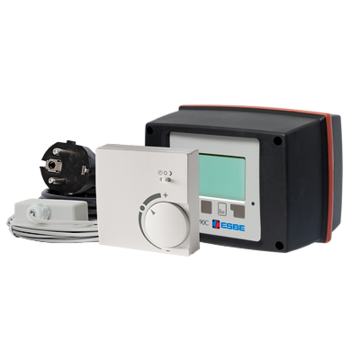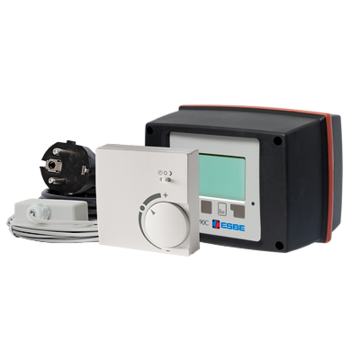 Controller
90C
Quick and easy mounting.
Numerous application possibilities.
Different versions to suit different demands.
Series 90C is a complete weather-compensating control unit with integrated actuator for use on mixing valves. The controller comes in 2 different versions, all equiped with full graphic display for easy handling and instant set-up. Depending of version can Series 90C handle up to 6 different sources of data input and has up to 3 possibilites of output control. This makes the 90C versatile and able to control a number of heat circuits and system components with high accaracy.
Product range
90C1-90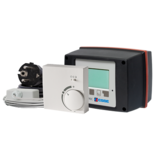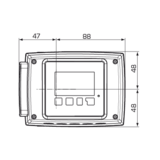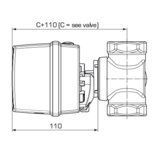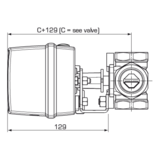 | | | | | | | | | |
| --- | --- | --- | --- | --- | --- | --- | --- | --- |
| Art.no. | Reference | No. of input sources | No. of output sources | Sensor cable | Room sensor | No. of universal sensors | Note | Replaces |
| 12601500 | 90C-1A-90 | 3 | 1 | yes | no | - | Operating range 90°. | 12601100, 12600100 |
| 12601600 | 90C-1B-90 | 3 | 1 | no | no | - | Operating range 90°. | 12601200 |
90C3-90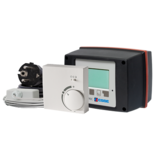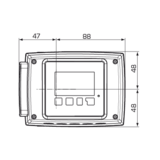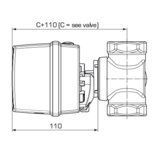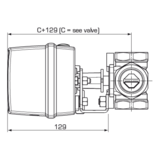 | | | | | | | | | |
| --- | --- | --- | --- | --- | --- | --- | --- | --- |
| Art.no. | Reference | No. of input sources | No. of output sources | Sensor cable | Room sensor | No. of universal sensors | Note | Replaces |
| 12603600 | 90C-3B-90 | 6 | 3 | no | no | 3 | Operating range 90°. | 12602200, 12603200 |
Installation support
ESBE 90C Installation movie
Technical data
Technical data
| | |
| --- | --- |
| Dimensions: | approx. 95x135x85 mm (HxWxT) |
| Display: | fully graphical display 128x64 dots |
| Light emitting diode: | polychrome/multicolour |
| Operation: | input keys |
| Power supply: | 230±10% VAC, 50/60Hz |
| Power consumption: | about 5,0 VA |
| Switching capacity: | 2(0,8)A 250 VAC (circulation pump 185W) |
| Enclosure rating: | IP54 as per DIN 40050 CE |
| Protection class: | II |
| Ambient atmospheric humidity: | max. 85% RH at 25°C |
| Sensors: | Temperature sensor type PT1000 |
| Sensor cable: | 4x0,38mm², max. length 30m |
| Running time: | Actuator - 120s/90° |
| Torque: | 15 Nm |
| ERP temperature controls class: | III |
| Energy efficiency contribution: | 1,5% |
| Weight: | 0,9 kg |
| Ambient temperature: | 0 to 40 °C |
| Temperature range - Flow pipe sensor CRS211, 1,5m: | 0 to +105 °C |
| Temperature range - Outdoor sensor CRS214: | -50 to +70 °C |
| Temperature range - Universal sensor CRS213 dia. 5mm, 1,5m: | 0 to +105 °C |
| Temperature range - High temperature sensor CRS215: | -50 to +550 °C |
Conformity




Wiring
Accessories and spare parts
Options
| | | | | | |
| --- | --- | --- | --- | --- | --- |
| | Art No. | Reference | Designation | Note | Instruction manual |
| | 17050800 | CRS211 | ESBE CRS211 Flow pipe sensor | | |
| | 17050900 | CRS213 | ESBE CRS213 Universal sensor | | |
| | 17051100 | CRS215 | ESBE CRS215 High temperature sensor | | |
Adaptor Kits
| | | | | | |
| --- | --- | --- | --- | --- | --- |
| | Art No. | Reference | Designation | Note | Instruction manual |
| | 16053700 | VRG804 | ESBE VRG804 Adaptor kit ESBE valves series VRx without hand lever for controller 90C. | Series 90C. Comes with the controller. | |
| | 16053900 | 900C | ESBE 900C Adaptor kit Honeywell Centra ZR, DR, DRG, DRU (DN15 - DN50). | Series 90, CRA120, CRC120, 90C*. Order separately. *The adaptor kit comes with a hand lever and for the controller series 90C this must be removed. It is not required for assembly. | |
| | 16051700 | 900CK | ESBE 900CK Adaptor kit Honeywell Centra Kompakt DRK/ZRK. | Series 90, CRA120, CRC120, 90C*. Order separately. *The adaptor kit comes with a hand lever and for the controller series 90C this must be removed. It is not required for assembly. | |
| | 16053600 | 900F | ESBE 900F Adaptor kit Meibes / Oventrop / Watts / BRV. | Series 90, CRA120, CRC120, 90C*. Order separately. *The adaptor kit comes with a hand lever and for the controller series 90C this must be removed. It is not required for assembly. | |
| | 16052600 | 900L | ESBE 900L Adaptor kit Schneider Electric TRV / TAC-TRV valves. | Series 90, CRA120, CRC120, 90C*. Order separately. *The adaptor kit comes with a hand lever and for the controller series 90C this must be removed. It is not required for assembly. | |
| | 16052500 | 900K | ESBE 900K Adaptor kit Siemens VBG31, VBI31, VBF21, VCI31. | Series 90, CRA120, CRC120, 90C*. Order separately. *The adaptor kit comes with a hand lever and for the controller series 90C this must be removed. It is not required for assembly. | |
| | 16051400 | 900A | ESBE 900A Adaptor kit TA VTR valves. | Series 90, CRA120, CRC120, 90C*. Order separately. *The adaptor kit comes with a hand lever and for the controller series 90C this must be removed. It is not required for assembly. | |
| | 16051500 | 900B | ESBE 900B Adaptor kit Viesmann valves DN 20-25 | Series 90, CRA120, CRC120, 90C*. Order separately. *The adaptor kit comes with a hand lever and for the controller series 90C this must be removed. It is not required for assembly. | |
Spare parts
| | | | | | |
| --- | --- | --- | --- | --- | --- |
| | Art No. | Reference | Designation | Note | Instruction manual |
| | 17051000 | CRS214 | ESBE CRS214 Outdoor sensor | | |
Download area
| | | |
| --- | --- | --- |
| Type | Preview | Download |
| Data sheet | 90C-90 | |
| Installation instruction | 90C Complete | |
| Installation instruction | 90C part 1, Application examples | |
| Installation instruction | 90C part 1B, Application text (de, en, fr, it, pl, ru, sv) | |
| Installation instruction | 90C part 1B, Application text (cs, de, ee, el, fi, no, tr) | |
| Installation instruction | 90C part 1B, Application text (es, lt, ro) | |
| Installation instruction | 90C part 2, Quick guide (da, de, en, fr, it, no, pl, ru, sv) | |
| Installation instruction | 90C part 2, Quick guide (cs, ee, el, es, fi, lt, ro, tr) | |
| Certificate | Declaration of Conformity, 90C | |
| Certificate | Declaration of Conformity UKCA, 90C | |
| Certificate | Building Product Declaration BPD3, 90C | |
| Certificate | EAC certificate, 90C | |
| Certificate | UKRSEPRO certificate (UA), 90C | |
| Declaration | ErP Declaration, 90C | |
| Image | 90C, high res | |
| 2D Image | 90C | |
| 3D drawing (stp file) | 90C | |
| 3D drawing (stp file) | CRS214 Outdoor sensor | |