RADIATORS 6
Heat system with radiator circuit and under floor system.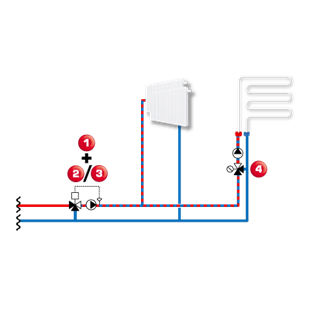 1
The mixing valve provides a high level of adjustability and minimal internal leakage, thus contributing to highly-efficient valve operation.
2
A indoor sensor based controller for the heat circuit offering a high level of comfort and at the same time provide energy saving. Thanks to the special interface between the valve VRG130 and controller has the combinationen a unique stability and precision when regulating.
3
A complete weather compensating controller for the heat circuit with many possibilities adjusments according to individual requirements.
4
The thermostatic valve is the number one choice for under floor heating systems requiring a scald safe* function, which is important in order to protect under floor heating pipes and also the floor itself. The assortment include external thread, rotating nut and pump flange for direct connection to the circulation pump. *) Scald safe means that in case of cold water failure, the hot water shuts off automatically.