Below we have answered frequently asked questions from our customers. If you do not find your answers here please contact your closest wholesaler or ESBE Sales company in your country.
What type of actuator/controller fits to my ESBE valve?
I want to upgrade my mixing valve with actuator, but my boiler has no controller. How can I do this?
We recommend that you check our offer of series CRx controllers; a controller with integrated actuator. We have a range of controllers to suit the different applications on the market.
Is it possible to mount an M60 actuator on a VRG valve?
No, this is not possible. We recommend replacing the actuator together with the valve to secure an optimal operation. Suitable actuator is found in our replacement guide that is available in the "Support" section.
How can the slide shoe inside the valve be changed in a VRG/VRB valve?
The slide shoe is not available as a spare part and shall not be changed.
The 0-rings inside the valve are available as spare parts and can be changed. Contact your local distributor or contact customer service for correct art number.
Where is the position of the slide shoe at the VRG and VRB valve shown?
The groove on the slide shoe shaft shows the position of the slide shoe. Please see below pictures for detailed information regarding the different products.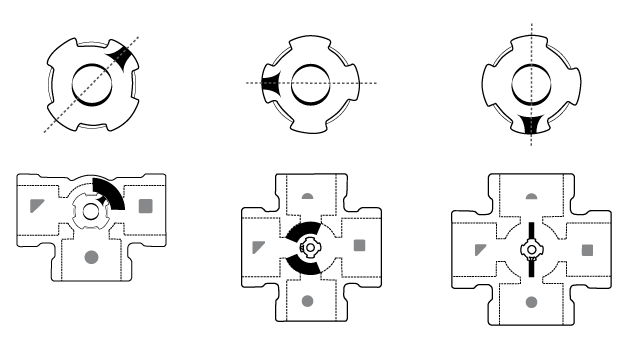 Why can't the 90C be used on ESBE valves Series 4F, Series T and Series H?
These series of valves has mechanical stops inside valve and can't be moved more than 90º. During the calibration mode the 90C controller might run more than the 90º working angle and the mechanical stop will destroy the controller gearbox.
How much glycol can be used in a system with ESBE Rotary valves?
A maximum of 50% glycol for freezing protection and oxygen absorbing compounds are allowed as additives. As
both the viscosity and the thermal conduction are affected when glycol is added to the system water, this fact has to be considered when dimensioning the valve. A good rule is to choose one size higher Kv-value when 30 - 50 % glycol is added. A lower concentration of glycol does not affect the valve performance.