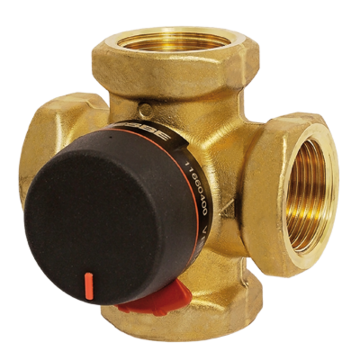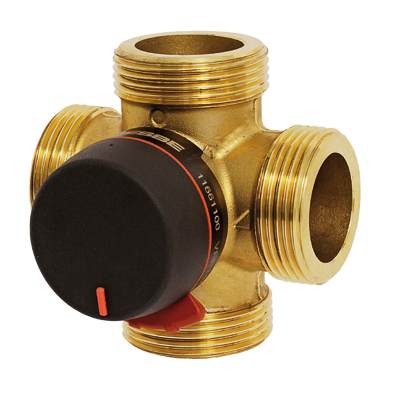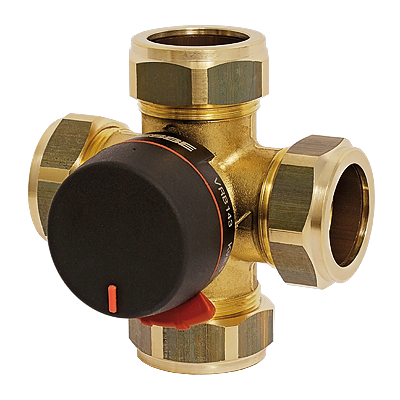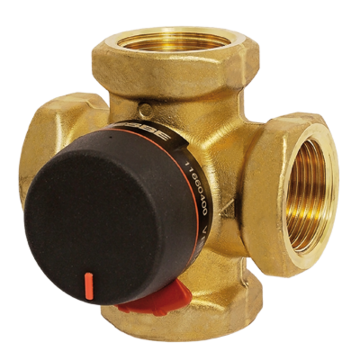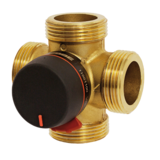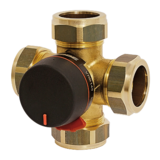 Mixing valve
VRB140
Superb regulation for best bivalent performance.
Compact, flexible and easy to install.
Long lasting and high durability.
Perfect match between the valve and ESBE actuators.
Series VRB140 are 4-way valves suitable for bivalent operations. The valve is made of high performing brass, allowing use in heating and cooling installations. The VRB series is available in DN15-50 and comes with different types of connections to suit most pipe dimensions. The valve is perfectly combined with ESBE actuators and controllers.
Product range
VRB141, Internal thread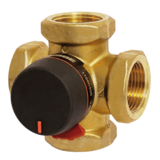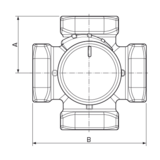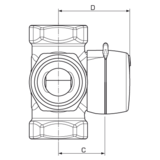 | | | | | | | | | | | | |
| --- | --- | --- | --- | --- | --- | --- | --- | --- | --- | --- | --- |
| Art.no. | Reference | DN | Kvs | Connection | A [mm] | B [mm] | C [mm] | D [mm] | Weight [kg] | Replaces | Note |
| 11660100 | VRB141 | 15 | 2,5 | Rp ½" | 36 | 72 | 32 | 50 | 0,40 | | |
| 11660200 | VRB141 | 20 | 4 | Rp ¾" | 36 | 72 | 32 | 50 | 0,52 | | |
| 11660300 | VRB141 | 20 | 6,3 | Rp ¾" | 36 | 72 | 32 | 50 | 0,52 | | |
| 11660400 | VRB141 | 25 | 10 | Rp 1" | 41 | 82 | 34 | 52 | 0,80 | 11450200 | |
| 11660500 | VRB141 | 32 | 16 | Rp 1¼" | 47 | 94 | 37 | 55 | 1,08 | | |
| 11662000 | VRB141 | 40 | 25 | Rp 1½" | 53 | 106 | 44 | 62 | 1,98 | 11600600 | |
| 11662200 | VRB141 | 50 | 35 | Rp 2" | 60 | 120 | 46 | 64 | 2,65 | 11600700 | |
VRB142, External thread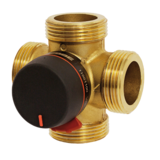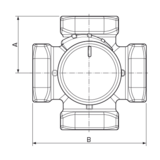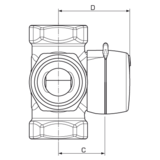 | | | | | | | | | | | | |
| --- | --- | --- | --- | --- | --- | --- | --- | --- | --- | --- | --- |
| Art.no. | Reference | DN | Kvs | Connection | A [mm] | B [mm] | C [mm] | D [mm] | Weight [kg] | Replaces | Note |
| 11660800 | VRB142 | 15 | 2,5 | G ¾" | 36 | 72 | 32 | 50 | 0,40 | | |
| 11662400 | VRB142 | 15 | 4 | G ¾" | 36 | 72 | 32 | 50 | 0,40 | 11450100 | |
| 11660900 | VRB142 | 20 | 4 | G 1" | 36 | 72 | 32 | 50 | 0,52 | | |
| 11661000 | VRB142 | 20 | 6,3 | G 1" | 36 | 72 | 32 | 50 | 0,52 | | |
| 11661100 | VRB142 | 25 | 10 | G 1¼" | 41 | 82 | 34 | 52 | 0,80 | | |
| 11662100 | VRB142 | 40 | 25 | G 2" | 53 | 106 | 44 | 62 | 1,99 | 11601300 | |
VRB143, Compression fitting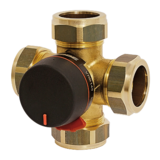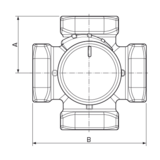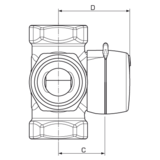 | | | | | | | | | | | |
| --- | --- | --- | --- | --- | --- | --- | --- | --- | --- | --- |
| Art.no. | Reference | DN | Kvs | Connection | A [mm] | B [mm] | C [mm] | D [mm] | Weight [kg] | Replaces |
| 11661500 | VRB143 | 20 | 4 | CPF 22 mm | 36 | 72 | 32 | 50 | 0,40 | 11450300 |
| 11661600 | VRB143 | 20 | 6,3 | CPF 22 mm | 36 | 72 | 32 | 50 | 0,40 | |
| 11661700 | VRB143 | 25 | 6,3 | CPF 28 mm | 36 | 72 | 32 | 52 | 0,45 | |
Installation support
Operation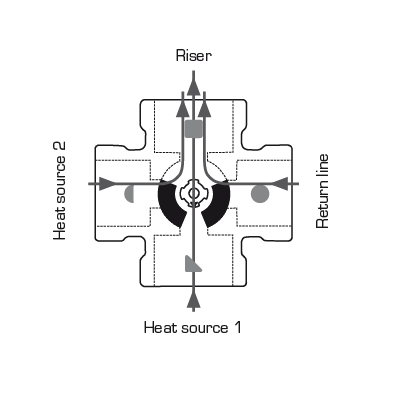 Installation examples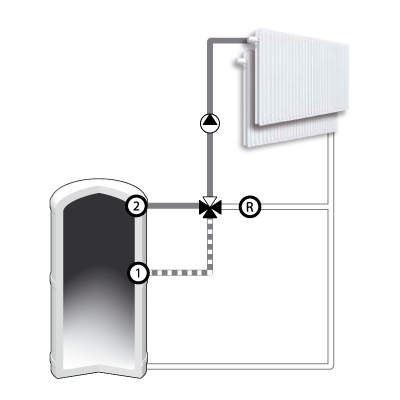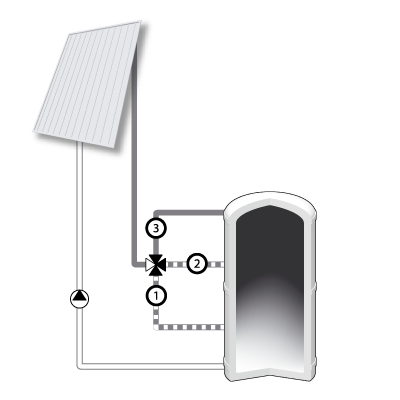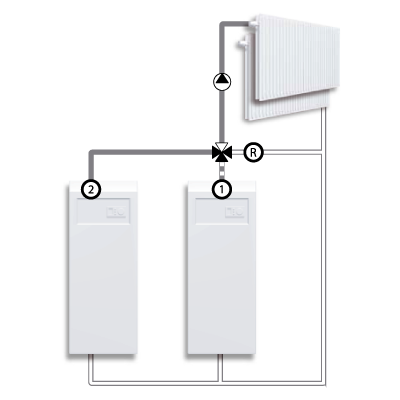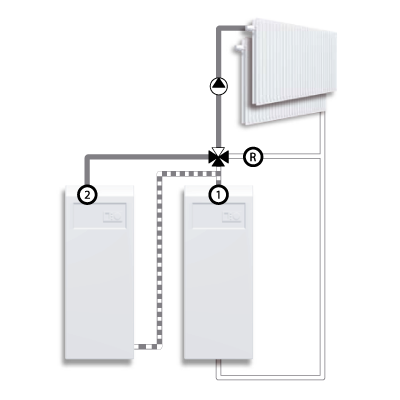 Technical data
Technical data
Pressure class:
PN10
Torque (at nominal pressure):
DN15-32: < 3 Nm;
DN40-50: < 5 Nm
Leakrate in % of flow:
<0,5
Working pressure:
1 MPa
max. Differential pressure drop, Mixing:
100 kPa
max. Differential pressure drop, Diverting:
200 kPa
Close off pressure:
200 kPa
Rangeability Kv/Kv min, A-AB:
100
Media, Heating water:
in accordance with VDI2035
Media, Water/Glycol mixtures:
max. 50 %
Media, Water/Ethanol mixtures:
max. 28 %
Media temperature, max. continuosly:
+110 °C
Media temperature, max. temporarily:
+130 °C
Media temperature, min.:
-10 °C
Connections, Internal thread (Rp):
EN 10226-1
Connections, External thread (G):
ISO 228/1
Connections, Compression fitting (CPF):
EN 1254-2
Material, Valve body:
Dezincification resistant brass, DZR
Material, Slide:
Abrasion resistant brass
Material, Shaft and bushing:
PPS composite
Material, O-rings:
EPDM
Conformity


Valve characteristics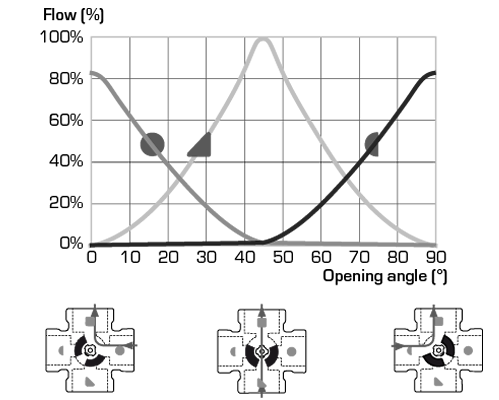 Dimensioning
Accessories and spare parts
Download area
| | | |
| --- | --- | --- |
| Type | Preview | Download |
| Data Sheet | VRB140 | |
| Installation instruction | VRB140 | |
| Certificate | Declaration of Conformity, VRB140 | |
| Certificate | Declaration of Conformity UKCA, VRB140 | |
| Certificate | Building Product Declaration BPD3, VRB140 | |
| Certificate | EAC certificate (RU), VRB140 | |
| Certificate | UKRSEPRO certificate (UA), VRB140 | |
| Approval | PZH-certificate (PL), VRB140 | |
| Image | VRB141, high res | |
| Image | VRB142, high res | |
| Image | VRB143, high res | |
| 2D image | VRB140 | |
| 3D drawing (stp file) | VRB141, DN15 | |
| 3D drawing (stp file) | VRB142, DN15 | |
| 3D drawing (stp file) | VRB141, DN20 | |
| 3D drawing (stp file) | VRB142, DN20 | |
| 3D drawing (stp file) | VRB143, DN20 | |
| 3D drawing (stp file) | VRB141, DN25 | |
| 3D drawing (stp file) | VRB142, DN25 | |
| 3D drawing (stp file) | VRB143, DN25 | |
| 3D drawing (stp file) | VRB141, DN32 | |
| 3D drawing (stp file) | VRB142, DN32 | |
| 3D drawing (stp file) | VRB141, DN40 | |
| 3D drawing (stp file) | VRB142, DN40 | |
| 3D drawing (stp file) | VRB141, DN50 | |