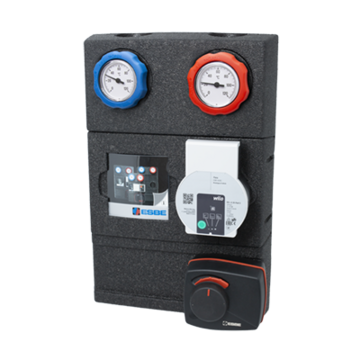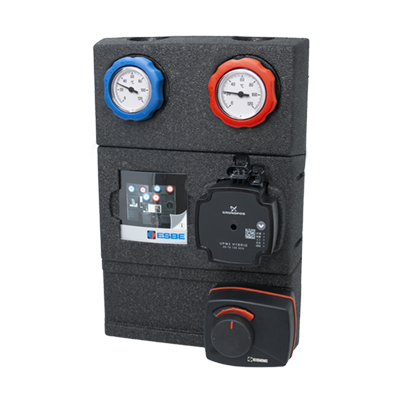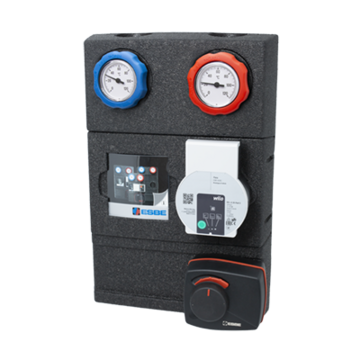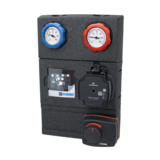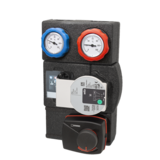 Circulation unit, Mixing function
GRA200, GRA300
Outstanding flow control thanks to the progressive characteristic of the valve
2 different types of actuator: 3-point or proportional control signal (depending on version)
QuickFit interface between actuator and valve - no tools needed
3 different high efficiency circulation pumps
Available in 3 sizes: DN20, DN25, DN32
High class insulation shell
Pretested and ready to use
Compact design
The ESBE series GRA200 and GRA300 are circulation units intended for heating circuits where an outstanding flow and temperature control are required. Equipped with two shut-off valves with thermometers, check valve, high class insulation shell and a high efficiency circulation pump. The units are delivered with a 3-way rotary progressive mixing valve which ensures best regulation performances independent from flow rate and low oversizing risk.
The Series GRA200 comes with actuator series ARA661 with 3-point control signal, 230V AC, or actuator series ARA639 proportional control signal,24V AC/DC. The circulation units are available in DN25 and DN32 with either a Wilo or Grundfos pump.
The Series GRA300 with very compact dimensions are equipped with actuator series ARA661. Series GRA300 is available in DN20 with a Wilo pump with PWM control signal.
Product range
GRA211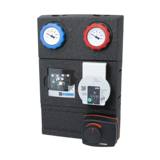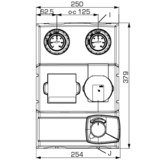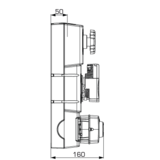 | | | | | | | | |
| --- | --- | --- | --- | --- | --- | --- | --- |
| Art.no. | Reference | DN | Pump | Connection I | Connection J | Weight [kg] | Note |
| 61042100 | GRA211 | 25 | Wilo PARA 25/6 | G 1" | G 1½" | 5,8 | Replaces 61040100 |
| 61042200 | GRA211 | 32 | Wilo PARA 25/8 | G 1¼" | G 1½" | 6,2 | Replaces 61040400 |
GRA212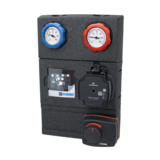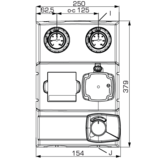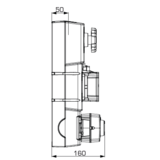 | | | | | | | | |
| --- | --- | --- | --- | --- | --- | --- | --- |
| Art.no. | Reference | DN | Pump | Connection I | Connection J | Weight [kg] | Note |
| 61042300 | GRA212 | 25 | Grundfos UPM3 AUTO 25-50 | G 1" | G 1½" | 5,9 | Replaces 61040500 |
| 61042400 | GRA212 | 32 | Grundfos UPM3 AUTO 25-70 | G 1¼" | G 1½" | 6,1 | Replaces 61040600 |
GRA231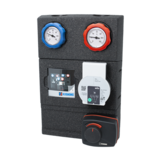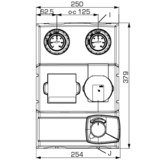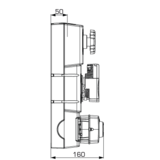 | | | | | | | | |
| --- | --- | --- | --- | --- | --- | --- | --- |
| Art.no. | Reference | DN | Pump | Connection I | Connection J | Weight [kg] | Note |
| 61042500 | GRA231 | 25 | Wilo PARA 25/6 | G 1" | G 1½" | 5,8 | Replaces 61043200 |
| 61042600 | GRA231 | 32 | Wilo PARA 25/8 | G 1¼" | G 1½" | 6,2 | Replaces 61043300 |
GRA232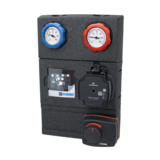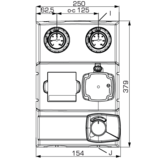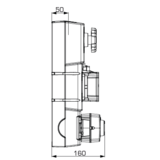 | | | | | | | | |
| --- | --- | --- | --- | --- | --- | --- | --- |
| Art.no. | Reference | DN | Pump | Connection I | Connection J | Weight [kg] | Note |
| 61042700 | GRA232 | 25 | Grundfos UPM3 AUTO 25-50 | G 1" | G 1½" | 5,9 | Replaces 61043400 |
| 61042800 | GRA232 | 32 | Grundfos UPM3 AUTO 25-70 | G 1¼" | G 1½" | 6,1 | Replaces 61043500 |
GRA311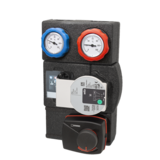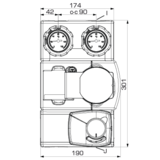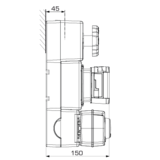 | | | | | | | | |
| --- | --- | --- | --- | --- | --- | --- | --- |
| Art.no. | Reference | DN | Pump | Connection I | Connection J | Weight [kg] | Note |
| 61043600 | GRA311 | 20 | Wilo PARA STG 15/8 | G ¾" | G 1" | 4,5 | Replaces 61043100 |
| 61043602 | GRA311 | 20 | Wilo PARA STG 15/8 | G 1" | G 1" | 4,5 | Campaign 2023 |
Installation support
Install ESBE Circulation unit
Operation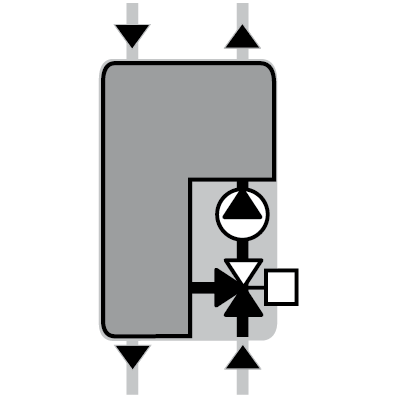 Installation example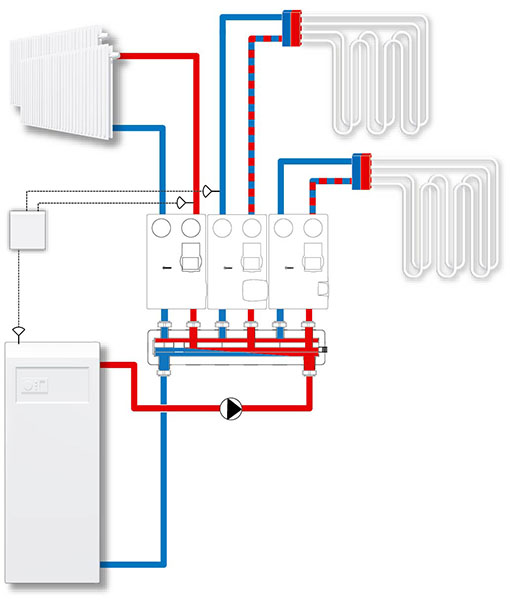 Technical data
Technical data
Pressure class:
PN 10
Working pressure:
1,0 MPa
Insulation:
EPP λ 0,036 W/mK
Media, Heating water:
in accordance with VDI2035
Media, Water/Glycol mixtures:
max. 50 % ; water / glycol mixtures are affecting the pump performance. In case of Applications where water / glycol mixtures are used, pump performance should be considered.
Media temperature - Series GRA211, GRA231:
min. +5°C, max. +100°C
Media temperature - Series GRA212, GRA232:
min. +5°C, max. +110°C
Media temperature - Series GRA300:
min. +5°C, max. +100°C
Ambient temperature:
min. 0°C, max. +55°C
Connections, Internal thread (G):
ISO 228/1
Connections, External thread (G):
ISO 228/1
Material, in contact with water
Components: Brass, Cast iron, Steel
Sealing materials: PTFE, Aramid fibre, EPDM
Integrated pump
Wilo PARA 25-130/6-43/SC
Power supply:
230 ± 10% V AC, 50/60 Hz
Power consumption:
3 — 43 W
Enclosure rating:
IP X4D
Insulation class:
F
EEI (Energy Efficiency Index), circulation pump:
<0,20
Wilo PARA 25-130/8-75/SC
Power supply:
230 ± 10% V AC, 50/60 Hz
Power consumption:
10 — 75 W
Enclosure rating:
IP X4D
Insulation class:
F
EEI (Energy Efficiency Index), circulation pump:
<0,21
Grundfos UPM3 AUTO 25-50 130
Power supply:
230 ± 10% V AC, 50/60 Hz
Power consumption:
4 — 33 W
Enclosure rating:
IP44
EEI (Energy Efficiency Index), circulation pump:
<0,20
Grundfos UPM3 AUTO 25-70 130
Power supply:
230 ± 10% V AC, 50/60 Hz
Power consumption:
2 — 52 W
Enclosure rating:
IP44
EEI (Energy Efficiency Index), circulation pump:
<0,20
Wilo PARA STG 15-130/8-60/0
Power supply:
230 ± 10% V AC, 50/60 Hz
Power consumption:
2 — 60 W
Enclosure rating:
IP X4D
Insulation class:
F
EEI (Energy Efficiency Index), circulation pump:
<0,20
Integrated valve
ESBE VRG438, DN20-8 QF
Pressure class:
PN10
Kvs:
8
max. Differential pressure drop:
100 kPa (1 bar)
Close off pressure:
200 kPa (2 bar)
Leakrate in % of flow:
<0,05%*
*:
Differential pressure 100 kPa (1 bar)
ESBE VRG432, DN20-8 QF
Pressure class:
PN10
Kvs:
8
max. Differential pressure drop:
100 kPa (1 bar)
Close off pressure:
200 kPa (2 bar)
Leakrate in % of flow:
<0,05%*
*:
Differential pressure 100 kPa (1 bar)
ESBE VRG432, DN25-12 QF
max. Differential pressure drop:
100 kPa (1 bar)
Close off pressure:
200 kPa (2 bar)
Leakrate in % of flow:
< 0,05%*
*:
Differential pressure 100kPa (1 bar)
Integrated Actuator
ESBE ARA661 Quick Fit
Control signal:
3-point SPDT
Power supply:
230 ± 10% V AC, 50Hz
Power consumption:
5 VA
Running time 90°:
120 s
Enclosure rating:
IP41
Protection class:
II
ESBE ARA661 Quick Fit
Control signal:
3-point SPDT
Power supply:
230 ± 10% V AC, 50Hz
Power consumption:
5 VA
Running time 90°:
120 s
Enclosure rating:
IP41
Protection class:
II
ESBE ARA639 Quick Fit
Control signal:
Proportional
Feedback signal, "U":
2-10 V AC
Power supply:
24 ± 10% V AC/DC, 50/60 Hz
Power consumtion - Operation:
AC: 5 W / DC: 2,5 W
Power consumption - Dimensioning:
AC: 11 VA / DC: 6 VA
Running time 90°:
15/30/60/120 s
Enclosure rating:
IP41
Protection class:
II
Conformity





Dimensioning
Wiring
Accessories and spare parts
Spare parts
| | | | | | | |
| --- | --- | --- | --- | --- | --- | --- |
| | Art No. | Reference | Designation | Note | Data sheet | Instruction manual |
| | 67006100 | GSP961 | ESBE GSP961 Actuator ARA661 120s 230V 3p QF | | | |
| | 67006200 | GSP962 | ESBE GSP962 Actuator ARA639 Prop 15-120s 24V QF | | | |
| | 67003300 | GSP933 | ESBE GSP933 Ball valves incl thermometer DN20 G¾", 2 pcs/package | DN20, G¾" | | |
| | 67003800 | GSP933 | ESBE GSP933 Ball valves incl thermometer DN20 G1", 2 pcs/package | DN20, G1" | | |
| | 67003400 | GSP911 | ESBE GSP911 Ball valves incl thermometer DN 25, 2 pcs/package | DN25 | | |
| | 67004000 | GSP911 | ESBE GSP911 Ball valves incl thermometer DN 32, 2 pcs/package | DN32 | | |
| | 67005200 | GSP951 | ESBE GSP951 Pump Wilo PARA 25/6 | DN25 | | |
| | 67005300 | GSP951 | ESBE GSP951 Pump Wilo PARA 25/8 | DN32 | | |
| | 67005400 | GSP952 | ESBE GSP952 Pump Grundfos UPM3 AUTO 25-50 | DN25 | | |
| | 67005500 | GSP952 | ESBE GSP952 Pump Grundfos UPM3 AUTO 25-70 | DN32 | | |
| | 67005600 | GSP932 | ESBE GSP932 Pump Wilo STG 15/8 | DN20 | | |
Options
| | | | | | | |
| --- | --- | --- | --- | --- | --- | --- |
| | Art No. | Reference | Designation | Note | Data sheet | Instruction manual |
| | 66001100 | GMA411 | ESBE GMA411 Hydraulic separation for 1 circulation unit. | | | |
| | 66000500 | GMA321 | ESBE GMA321 Manifold for 2 circulation units, without integrated hydraulic separator function. | DN20 | | |
| | 66000600 | GMA331 | ESBE GMA331 Manifold for 3 circulation units, without integrated hydraulic separator function. | DN20 | | |
| | 66001200 | GMA421 | ESBE GMA421 Manifold for 2 circulation units, without integrated hydraulic separator function. | | | |
| | 66001300 | GMA431 | ESBE GMA431 Manifold for 3 circulation units, without integrated hydraulic separator function. | | | |
| | 66001400 | GMA441 | ESBE GMA441 Manifold for 4 circulation units, without integrated hydraulic separator function. | | | |
| | 66001500 | GMA451 | ESBE GMA451 Manifold for 5 circulation units, without integrated hydraulic separator function. | | | |
| | 66001600 | GMA521 | ESBE GMA521 Manifold for 2 circulation units, with integrated hydraulic separator function. | | | |
| | 66001700 | GMA531 | ESBE GMA531 Manifold for 3 circulation units, with integrated hydraulic separator function. | | | |
Download area
| | | |
| --- | --- | --- |
| Type | Preview | Download |
| Data sheet | GRA200, GRA300 | |
| Data sheet | GRA300 Campaign 2023 | |
| Installation instruction | GRA200 | |
| Installation instruction | GRA300 | |
| Installation instruction | GRA300 Campaign 2023 | |
| Installation instruction | GRA200 (DN25/DN32), Wilo Pump (de, en, fr) | |
| Installation instruction | GRA200 (DN25/DN32), Wilo Pump (cs, sk) | |
| Installation instruction | GRA200 (DN25/DN32), Grundfos Pump | |
| Installation instruction | GRA300 (DN20), Wilo Pump (de, en, fr, it) | |
| Installation instruction | GRA300 (DN20), Wilo Pump (cs, hu, pl, sk, sl) | |
| Certificate | Declaration of Conformity, GRAx00 | |
| Certificate | Declaration of Conformity UKCA, GRAx00 | |
| Certificate | Building Product Declaration BPD3, GRA200 | |
| Certificate | Building Product Declaration BPD3, GRA300 | |
| Image | GRA211 & GRA231, high res | |
| Image | GRA212 & GRA232, high res | |
| Image | GRA311, high res | |
| 2D Image | GRA211 & 231 | |
| 2D Image | GRA212 & GRA232 | |
| 2D Image | GRA311 | |
| 3D drawing (stp file) | GRA211 & GRA231, DN25 | |
| 3D drawing (stp file) | GRA211 & GRA231, DN32 | |
| 3D drawing (stp file) | GRA212 & GRA232, DN25 | |
| 3D drawing (stp file) | GRA212 & GRA232, DN32 | |
| 3D drawing (stp file) | GRA311, DN20 | |