SOLID FUEL 12
Return temperature unit designed for solid fuel applications, where a return temperature control is required.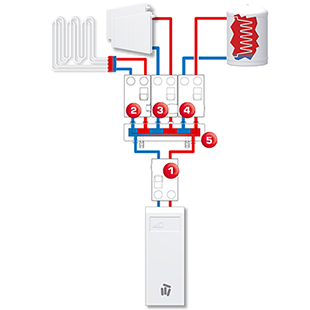 1
The return temperature unit secures that the boiler gets up to a high combustion temperature to ensure the lowest emission, high efficiency of the boiler reduce tarring and increase life span of the boiler (preventing condensation).
2
The ESBE series GFA is a circulation unit with an adjustable constant outlet temperature used to keep the flow temperature at the set level regardless of pressure drop or flow volume. The thermostatic valve is the number one choice for under floor heating systems requiring a scald safe* function, which is important in order to protect under floor heating pipes and also the floor itself. *) Scald safe means that in case of cold water failure, the hot water shuts off automatically.
3
A circulation unit with a 3 point actuator in combination with the special valve regulation the circulation unit provides a unique stability and precision when it's regulating.
4
For applications were a modulating heat source is used the direct supply circulation unit is recommended intended to transport energy in the most efficient way possible. Equipped with High Efficiency circulation pump and a tailor-made insulation you can be sure that ESBE delivers the best circulation unit for both your economy as well as for the environment.
5
For applications were multiple circuits is used, the ESBE series of manifold is recommended to distribute the heating supply in to the different circuits via individual ESBE circulation units.