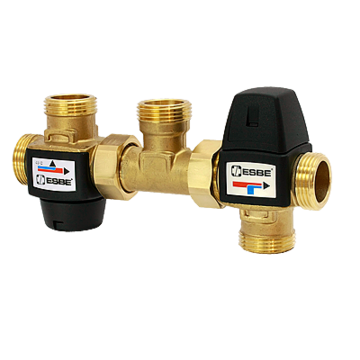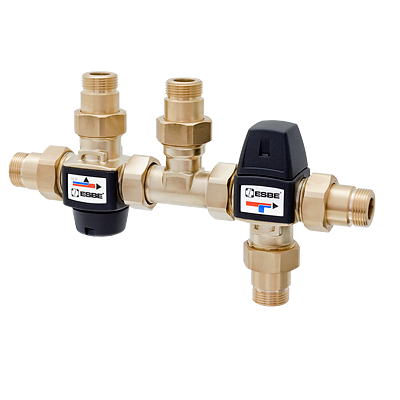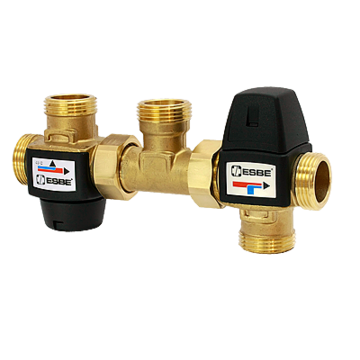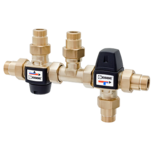 Solar kit
VMC300
Optimized energy usage.
Anti-scald protection.
Accuracy of regulation.
Easy installation.
Series VMC300 for dual source domestic hot water. The Solar Kit offers optimized energy usage, scald protection and comfort in a compact and efficient way. Using only thermostatic components (non-electrical) the unit is completely independent and provides very easy installation.
Product range
VMC322, External thread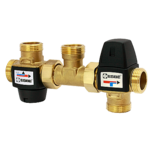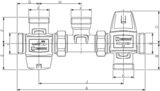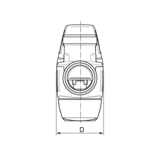 | | | | | | | | | | | | | | | |
| --- | --- | --- | --- | --- | --- | --- | --- | --- | --- | --- | --- | --- | --- | --- |
| Art.no. | Reference | Change-over point [°C] | Kvs | Connection K | A [mm] | B [mm] | C [mm] | D [mm] | E [mm] | F [mm] | G [mm] | H [mm] | J [mm] | Weight [kg] |
| 31521000 | VMC322 | 45 | 1,5 | G 1" | 206 | 42 | 52 | 46 | 42 | 42 | 35 | 68 | 136 | 1,22 |
VMC322, with adapters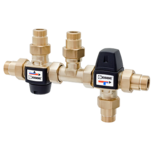 | | | | | | | | | | | | | | | | |
| --- | --- | --- | --- | --- | --- | --- | --- | --- | --- | --- | --- | --- | --- | --- | --- |
| Art.no. | Reference | Change-over point [°C] | Kvs | Connection K | A [mm] | B [mm] | C [mm] | D [mm] | E [mm] | F [mm] | G [mm] | H [mm] | J [mm] | Weight [kg] | Note |
| 31521300 | VMC322 | 45 | 1,4 | R ¾" | 276 | 77 | 52 | 46 | 42 | 77 | 70 | 68 | 136 | 1,86 | Two check valves for both hot and cold water are included. |
Installation support
Installation examples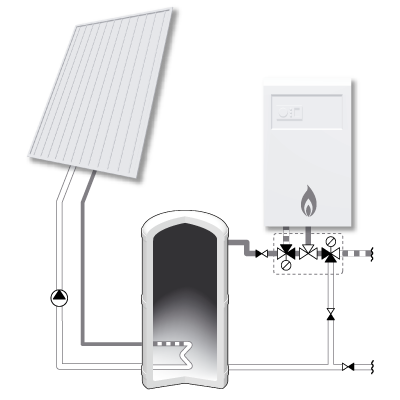 Technical data
Technical data
| | |
| --- | --- |
| Pressure class: | PN 10 |
| Max. flow from collector: | VMC300: 0,7 l/s (42 l/min) |
| Change-over point, accuracy: | ± 1 °C |
| Diverting range shut off: | 45°C ± 2°C |
| Temperature on water from collector, max.: | +95 °C |
| Temperature on water from collector, min.: | 0 °C |
| Temperature from additional heat source, max.: | +95 °C |
| Temperature range, mixing valve - VMC300: | 35 - 60 °C |
| Temperature stability on outgoing water - VMC300*: | ± 2 °C |
| | * Valid at unchanged hot/cold water pressure, minimum flow rate 4 l/min. Minimum temperature difference between hot water inlet and mixed water outlet 10°C. |
| Material, Valve housing and other metal parts with fluid contact: | Dezincification resistant brass, DZR |
| Connections, External thread (G): | ISO 228/1 |
| Connections, External thread (R): | EN 10226-1 |
Conformity




Flow pattern
Accessories and spare parts
Spare parts
| | | | | | | |
| --- | --- | --- | --- | --- | --- | --- |
| | Art No. | Reference | Designation | Note | Data sheet | Instruction manual |
| | 37102000 | VTD911 | ESBE VTD911 Exchange kit, 45°C | | | |
| | 37102100 | VTD911 | ESBE VTD911 Exchange kit, 50°C | | | |
| | 37102200 | VTD911 | ESBE VTD911 Exchange kit, 60°C | | | |
| | 37000400 | VTA932 | ESBE VTA932 Exchange kit VTA320, 35 - 60°C | VTA320, VTR320 | | |
| | 37120300 | VTS955 | ESBE VTS955 Exchange kit, series VTS550, 45 - 65°C | VTS550 | | |
| | 57000600 | VTC931 | ESBE VTC931 Thermostat, 42°C | | | |
Connection kit KTD200, KTD300
| | | | | | | |
| --- | --- | --- | --- | --- | --- | --- |
| | Art No. | Reference | Designation | Note | Data sheet | Instruction manual |
| | 36552500 | KTD312 | Connection kit with external thread R 1" for use on externally threaded valves G 1¼". | Two check valves included. Suits series VTS522, VTS552, VTA331, VTA532, VTA362, VTA562, VTA322, VTA522, VTA352, VTA552, VTA372, VTA572, VMC312. | | |
| | 36552200 | KTD212 | Connection kit with external thread R ¾" for use on externally threaded valves G 1". | One check valves included. Suits series VTS522, VTS552, VTA331, VTA532, VTA362, VTA562, VTA322, VTA522, VTA352, VTA552, VTA372, VTA572, VMC312. | | |
| | 36552300 | KTD212 | Connection kit with external thread R 1" for use on externally threaded valves G 1¼". | One check valves included. Suits series VTS522, VTS552, VTA331, VTA532, VTA362, VTA562, VTA322, VTA522, VTA352, VTA552, VTA372, VTA572, VMC312. | | |
| | 36552400 | KTD312 | Connection kit with external thread R ¾" for use on externally threaded valves G 1". | Two check valves included. Suits series VTS522, VTS552, VTA331, VTA532, VTA362, VTA562, VTA322, VTA522, VTA352, VTA552, VTA372, VTA572, VMC312. | | |
Connection kit KCD300
| | | | | | | |
| --- | --- | --- | --- | --- | --- | --- |
| | Art No. | Reference | Designation | Note | Data sheet | Instruction manual |
| | 36552900 | KCD313 | Connection kit with compression fittings CPF 22mm for use on externally threaded valves G1". | Two check valves included. Suits series VTS522, VTS552, VTA331, VTA532, VTA362, VTA562, VTA322, VTA522, VTA352, VTA552, VTA372, VTA572, VMC312. | | |
Download area
| | | |
| --- | --- | --- |
| Type | Preview | Download |
| Data sheet | VMC300 | |
| Installation instruction | VMC300, VMC500 | |
| Certificate | Declaration of Conformity, VMC300 | |
| Certificate | Declaration of Conformity UKCA, VMC300 | |
| Certificate | Building Product Declaration BPD3, VMC300/VMC500 | |
| Certificate | ÜA R-15.2.4-22-17605 (AT), VMC300 | |
| Certificate | KIWA-21-DW-10120, VMC300 | |
| Certificate | KIWA-21-DW-10122, VMC300 | |
| Certificate | EAC certificate (RU), VMC300 | |
| Certificate | UKRSEPRO certificate (UA), VMC300 | |
| Approval | PZH-certificate (PL), VMC300 | |
| Image | VMC322, high res | |
| Image | VMC322 with adapers, high res | |
| 2D Image | VMC322, VMC522 | |
| 2D Image | VMC322, VMC522 with adapters | |
| 3D drawing (stp file) | VMC322 | |
| 3D drawing (stp file) | VMC322, with adapters | |