OLIVER PETERSON WON FORMULA 1 DRIVING WITH ESBE
2022-06-28
In ESBE's stand at Nordbygg 2022, you could compete for a Formula 1 race at Scandinavian Raceway in Anderstorp.
ESBE congratulates Oliver Peterson who became the lucky winner of a racing experience. Daily, Oliver works as a plumber at Landsbro Rör in Vetlanda. A camera team from ESBE met on site and joined during the day.
You were at the trade fair show Nordbygg and competed in ESBE's stand. What did you think of the fair?
"It was the first time visiting and lots to watch. It was a good fair."
How long have you worked as a plumber at Landsbro Rör?
"I've been there 5 years. Two years as an apprentice and three years now as a fully qualified plumber."
Why did you choose to study plumbing?
"It was not an obvious choice. There were many different educations that I was interested in. I picked out six different ones and rolled the dice. It chose plumbing and I'm very happy with that today. Such an awesome job!
Do you install a lot of ESBE products at Landsbro Rör?
"Yes, quite a lot. Especially valves."
How did you feel when you found out you won?
"First, I thought that someone was trying to trick me. But then I recognized ESBE and checked the result and then it became clear that it was me who won. Great fun!"
As far as we know, there have been both happy exclamations and some jealousy among colleagues about the win?
"Yes, some of my colleagues got a tiny bit upset (read jealous), but most of them were happy on my behalf."
Racing on schedule
Before you start driving, you need a review of the racetrack and a theory session. After the important theoretical part, it was time to dress up and try the track. The first drive was made in the slightly smaller model Formula Renault.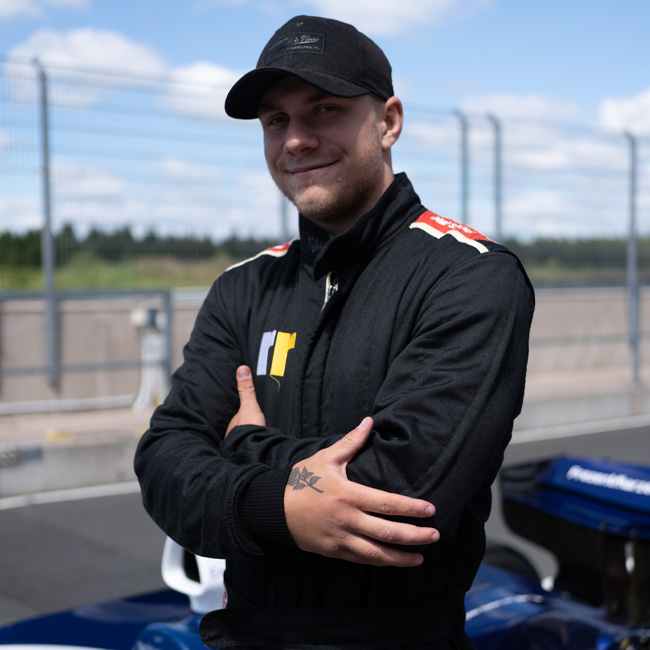 For part two, it was time test the big cars! Two Formula 1 cars, previously driven by the world stars Nico Rosberg and Alex Wurtz, were waiting for Oliver.
How was the driving?
"My legs were quite shaky, and the hands cramped after a while, but the driving was really cool. It's difficult to determine how well the brakes work, in fact you could probably put the brakes much later."
You disappeared in a second then we saw you flash past us on the track. Which of the cars was the best driving experience?
"The fastest one, of course!"
Now you are returning home to Vetlanda again. What are you going to tell to your colleagues?
"Yes, now I'm heading back home, what a slow drive it will be, haha. I'll show them lots of pictures and videos and tell them about the driving experience."
Congratulations Oliver! What a wonderful day it was in Anderstorp at Scandinavian Raceway.