ESBE SUPPORTS YOUNG ENTREPRENEURSHIP (UF)
2022-05-31
Young entrepreneurship is something we at ESBE encourage. Read about the collaboration with CarTag, a company run by four high school students.
A UF company is a company that is started, run and phased out during a school year in high school. ESBE's sales manager Jörgen Thelin was honored to be an advisor to the UF company CarTag, which in 2021-2022 was run by Martin Martinsson, Karl Johansson, Jonatan Eskilsson and Hugo Atterling during their final year of the technology program, with a focus on "Information and media technology" (programming).
We had a chat with CarTag's creators.

First, we must start by congratulating you! You are one of four UF companies competing for the title 'UF company of the year in Värnamo 2022'.
"Thank you, it feels exciting and fun. We are all competition-oriented and hope to win, but at the same time we see the value of the other participants' products. In fact, of the four companies remaining in the competition, three teams come from FIGY's technology program. We know two of these companies well, which makes us even more motivated to win!
'Värnamo Näringsliv' (Business of the area Värnamo) are organizing the competition, so in addition to the competition itself, it will be an excellent opportunity to make contacts with people who are good to know in the future."
Can you tell us more about your idea CarTag?
"CarTag is both the name of our product and our company name. The product is best described as an exclusive label holder that's primarily aimed at car rental companies. Other target groups may be overnight activities such as holiday villages and hostels where they have not yet installed electronic locks. Of course, private individuals can also use CarTag, for example, differentiate between e.g. garage keys and house keys.
What problems does CarTag solve?
"Today's label holders are cheap and made of plastic. They lack a sense of exclusivity and authenticity. CarTag is made of metal and plexiglass and gives a completely different feel, while being more robust and ecologically durable than its plastic cousins. Car rental companies that use CarTag create a safer, more thoughtful feeling when handing over the keys."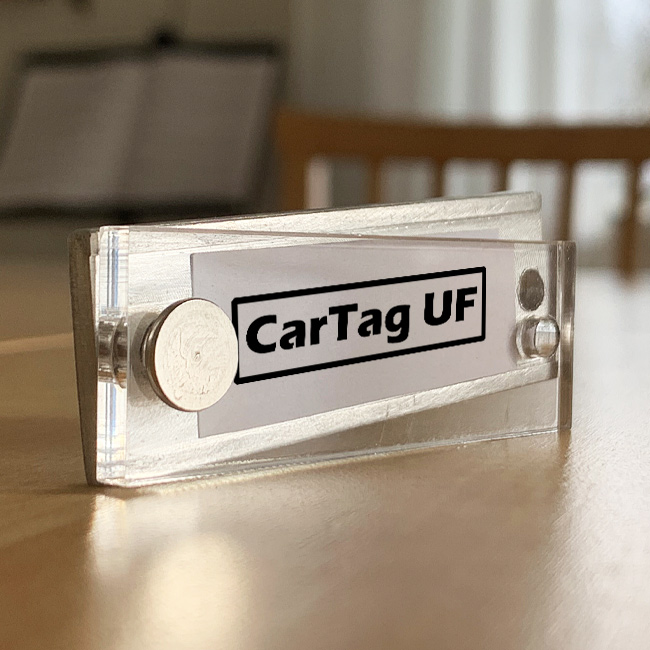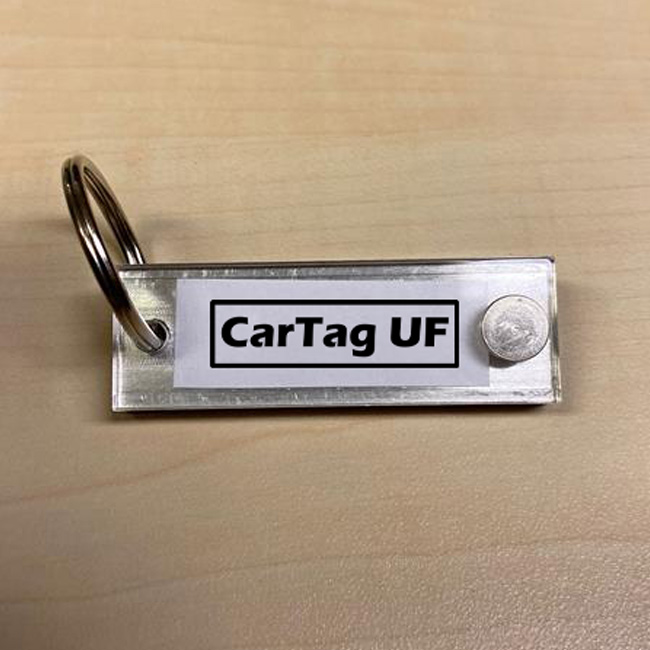 Where can you buy your product?
"At present, it's unfortunately not possible to buy the product because the UF year is over, and the company will be phased out soon. Earlier in the UF year, we sold CarTag via our pages on Instagram and Tradera."
How did you make the product?
"CarTag consists of a metal part, a plate in plexiglass and a screw rivet. The metal part is manufactured in two different ways. We have asked the Industrial Engineering program here at FIGY for help, and they've manufactured some parts, but most of them we've manufactured ourselves in our workshop at the Technology program. Making our metal part is quite simple because we only need to drill two holes and mill a groove in it. The part is designed to be as simple as possible to manufacture, which saves both energy and time. We order the part made of plexiglass from a company called Fabrik9. They laser cut the part with the right dimensions and it's ready to use as soon as we receive it."
Will CarTag continue to exist after graduation?
"No, unfortunately we will not continue with CarTag after graduation. We thought about continuing because it has been a fun project, but at the same time we don't have the time required. Many of us will move from the city so it will be more difficult to meet up and it will not be as fun if not everyone is involved."
How did you get in touch with ESBE?
"When you run a UF company, you must have a so-called advisor. The advisor acts as a support and since we lacked knowledge in finance, marketing, and sales, we chose to look for an advisor with marketing skills. We got in touch with Jörgen Thelin who is sales manager at ESBE. We have had great help from Jörgen in sales and marketing issues. Among other things, he has taught us the importance of having different sales chains for different types of customers – one aimed at private individuals and one at companies. He has also been involved in pricing and taught us, for example, individual pricing, which was very useful in our own sales.
Finally, what are your future plans and what do you dream of working on?
Karl was unfortunately ill at the time of the interview
Martin:
"After graduation, I do military service on Lv6 in Halmstad. After that, the plan is to study for a master's degree in industrial economics, or in automation and mechatronics.
I dream of working as a project manager at a larger company. I like to be responsible and at the same time see the work done at a company from a larger perspective. It would also be fun to run my own business in the manufacturing industry."
Hugo:
"My plan is to continue my studies and study Software Engineering. To be able to participate and contribute to something that develops society is my dream."
Jonathan:
"I hope to get into Chalmers University of Technology after gradiation, where I want to study computer technology. My dream is to be the leader of some big company."
Good luck with everything and best wishes from the ESBE team.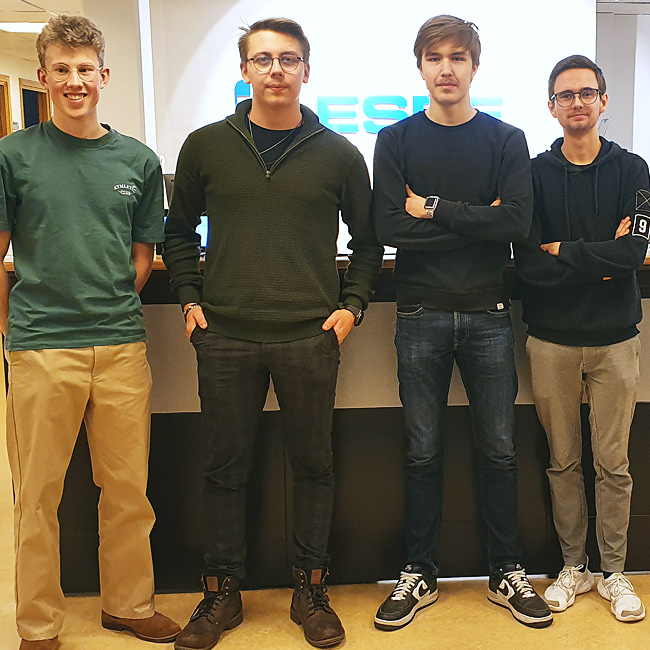 The owners of the UF company CarTag, from left to right:
Martin Martinsson, Karl Johansson, Jonatan Eskilsson, Hugo Atterling