ESBE DOES IT AGAIN: SWEDEN'S BEST MANAGED COMPANIES 2021
2021-09-23
For the second consecutive year, ESBE has received the prestigious Sweden's Best Managed Companies award. The program is presented by Deloitte in partnership with Nasdaq. » Read more about the award here
"This award recognizes companies who demonstrate exceptional leadership and commitment to drive profitable growth. They have a deliberate approach to build strong teams and investing in the future development of their talent", says Håkan Sjögren, independent jury member and Managing Director & Responsible for listings at Nasdaq Stockholm.
Best Managed Companies is a quality award to recognize the overall success of private Swedish companies based on strategic direction, ability to execute, corporate culture and financial performance. Best Managed Companies was established in Canada in 1993 and has since then been introduced in more than 20 countries around the world. Sweden's Best Managed Companies was launched during 2018 by Deloitte in cooperation with Nasdaq. This is the third year of the award. An independent jury has selected the 13 companies which received this year's award.
We had a chat with Peter Cerny, CEO and group CEO for ESBE, to hear his thoughts about the distinction.
What was your spontaneous reaction when you found out that ESBE had won the Sweden's Best Managed Companies award 2021, for the second consecutive year?

"Primarily I felt extremely happy about and proud of what all the staff had jointly achieved.
Like so many other companies around the world, we've had a challenging time. Concerns about the health and wellbeing of people, but also about other effects that the pandemic has caused, which have affected most companies in one way or another. Despite all of this, we've managed to improve on a large number of aspects and I'm enormously proud of and humbled by that."

Why do you think you managed to win the award this year again?

"At its core, ESBE is a really well-run business. It's in our DNA to constantly strive to improve and reach new targets. During this past year we've actively worked on improving our processes. We've continued our long-term investments in product development, and also increased production capacity. As a result of this work, both turnover and our bottom line have improved.
The feedback we received from Deloitte already after last year's award was that our processes are in order and that we have a distinct financial model. They praised our long-term work and the humanitarian culture that characterises us as a company. Our profit share model and the possibility for employees to buy shares in ESBE make us unique in many respects. And we are a business that chooses, and has always chosen, to give back to society where we're active.
Altogether, you could say that ESBE is a company that's been closely scrutinised, and that has performed excellently across the board, which is the basis for us receiving this distinction for the second year in a row."

As well as Sweden's Best Managed Companies, ESBE has also been awarded the Export Hermes 2020. Can you explain this success?
"It's always difficult to give self praise, but our efforts, goals and visions have evidently paid off.
Long-sightedness has always been a watchword for us, along with Leadership and Compassion. We work actively to incorporate these watchwords into everything we do. And these essential cornerstones are not alone; they're strongly backed up by Energy savings, Comfort and Safety. Together, these watchwords form the foundation of everything we do. We can of course add to that hard work and a clear will to simplify things. And going forward, it's obviously about our need to develop innovative products that meet our clients' stringent demands, whilst being as kind and energy-efficient as possible on the environment."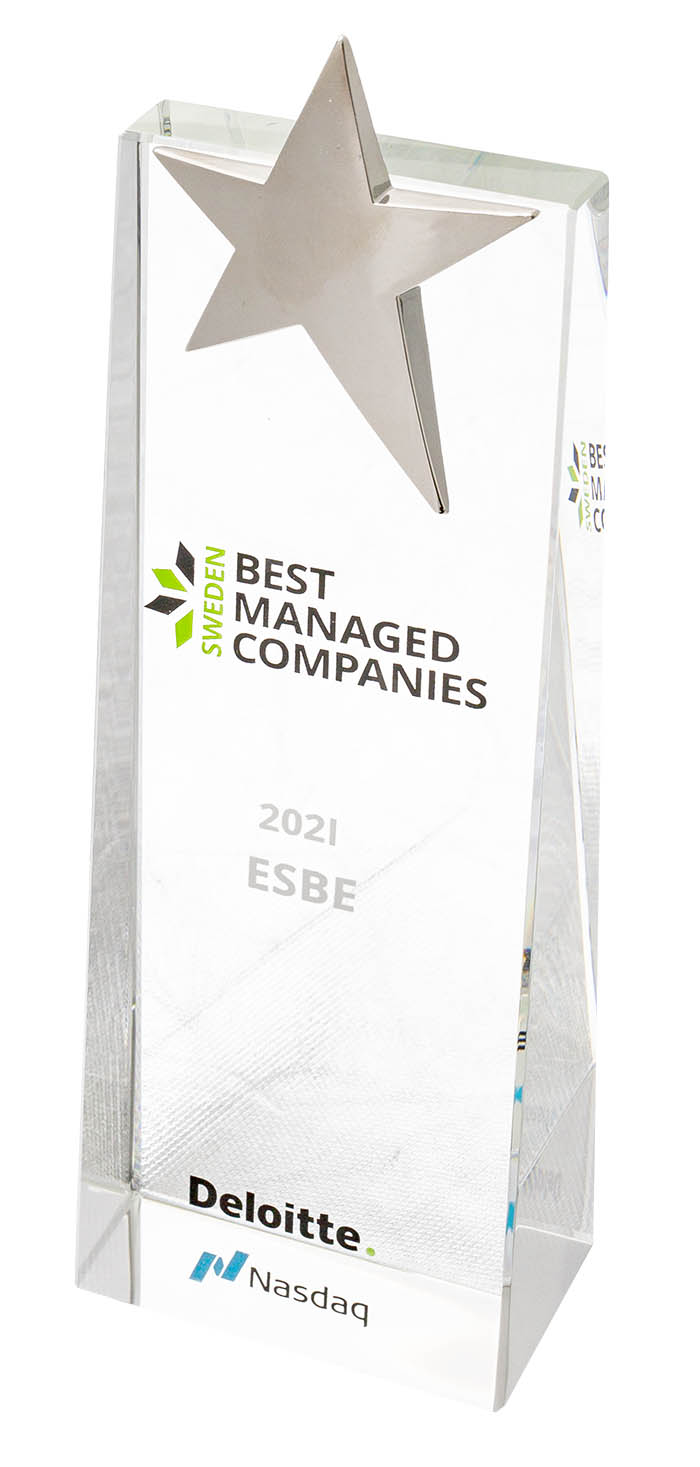 Lastly, for any hungry companies that want to saddle up and go after some sought-after awards, how do they do it? Do you have any concrete tips? What should they think about?

"Success isn't handed to you. You need be long-sighted, with long-term goals to work towards.
You need to be ready to change course in heavy winds, and constantly make sure that growth and profitability go hand in hand, because then you can invest in the business. It's essential to continually work on improvements. There's always something that could be even better.
And I personally also think it's important not to take success for granted, but to remain humble. Success is perishable, and it can soon be flipped on its head. Of course we should celebrate the victories and enjoy them. But don't settle; constantly set new goals to strive for."