We are ESBE, Ambassador Leif Sundvall
2020-10-06
If you're happy at a company, as a rule you stay put. At ESBE, there are plenty of true veterans.
Meet Leif Sundvall, team leader at ESBE
Leif Sundvall has done nothing else in his professional life other than work at ESBE. For that work, he has been honoured with no less than two gold watches. Maybe there could even be three?
Forty-five years ago, Leif Sundvall left his ninth-year class and joined ESBE. He is still every bit as happy at the company. When he's not working as team leader, the former youth football coach is happy to spend time at his holiday cottage in Kävsjö together with his family.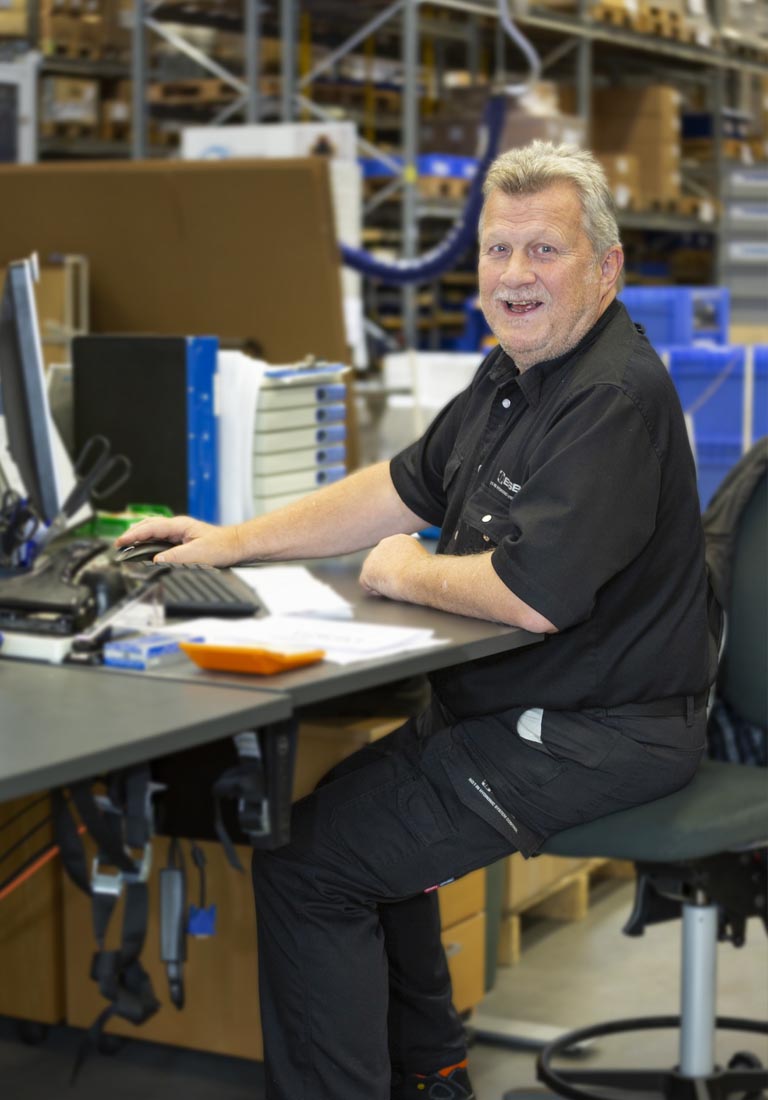 What are your duties at work?
I'm a team leader, together with two colleagues. I'm responsible for the teams in the VRG, Gear, Superflow and Pump Group departments. I release orders, make sure that material is in place, hold employee appraisals and am available to solve any problems that arise.
What is your background? What did you do before starting work at ESBE?
I've not had time to do much else than work here at ESBE, ha ha. I left school after ninth year and started here.
What is a normal day like at work?
No two days are the same and the work is very varied. It's hard to explain a "normal day" because the days vary so much, but I keep an eye on deviation reports and try to coach my team members to the best of my ability. There are the occasional meetings, but otherwise you can say that the other two team leaders and I spend our time out in production. We are very closely involved in the production process, and it's our job to try to plan and structure the work.
How would you describe the corporate culture at ESBE?
I think that ESBE's corporate culture is very much about freedom under responsibility. There are high ceilings. We collaborate and try to help each other out between different departments. Services with services in return, put simply.
What characterises ESBE as an employer?
As an employee at ESBE, you feel secure. The company adopts a long-term approach, and above all they are very closely involved in the community. The commitment to employees does not end when you go home from work, it continues all the way into the very area where we live and work. Mats Skogsfors, for example, made sure that we got a dentist in the town. His son Christer is continuing in the same track, among other things building homes and organising the Christmas market. I place a high value on that work. I'm one of many employees who are partners in the company, so it feels especially good that ESBE not only cares about the results on the bottom line – but that they care about how we employees are, even outside work.
What's the best thing about your job?
The best thing about my job is working with people. I appreciate the day-to-day contact and that I can be involved in solving problems that make things easier for my colleagues.
What's your best advice for people who are curious about what it's like to work at ESBE?
At ESBE there is order and clarity. It's clean and tidy here. If you've spent time in different manufacturing industries, you'll see that we have a particularly fine environment. We have a really nice factory.