ESBE's history
2020-10-05
The Swedish industrialist Johan August Skogsfors founded ESBE back in 1906, but he did much more than that. For example, he ensured that the inhabitants of the small village of Reftele, where the headquarters office is still located, received electricity.
In the town of Reftele in Småland, you will find the company called ESBE. The company has been here for more than 110 years and is run by the fourth generation of Skogsfors. The fact that we at ESBE have never left our original home in the middle of the province of Småland describes our dedication to Swedish production in general and our region in particular.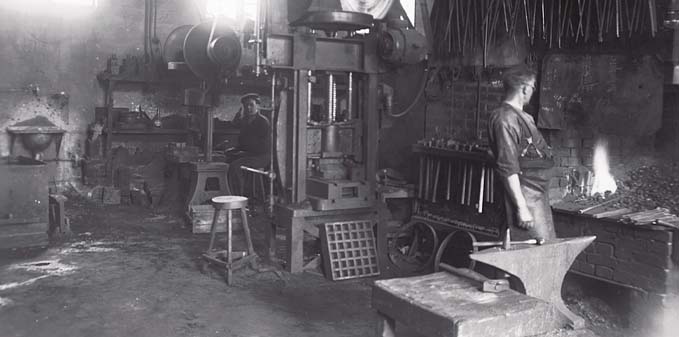 It all started with agricultural tools
ESBE's history begins in 1906. It was at that time that Johan August founded Skogsfors Bruk adjoining the railway station in Reftele. A short distance away he constructed an electrical generating plant and on 19 November 1906, electric light lit the factory – a first for a building in the village! After this, everything was built at a brisk pace: sawmill, foundry, forging workshop, mechanical assembly, painting workshop and a small farm on the side to be able to test run the products the factory's own soil. Or as Johan August himself said: "No new idea should be released to the market until it has first been tested in its own home soil".
The products initially produced in the workshop were agricultural tools, however eventually also horseshoes and stirrups were exported to the Imperial Russian Army, and in a special factory, ball bearings were produced.
Central heating became a factor for success
Johan August travelled far and wide around the world to obtain inspiration, and he was interested in much more than only agricultural tools. What was to be a crucial step in ESBE's history was the design and construction of a small central heating system with attached radiators that he installed in his own home. The invention made it possible to spread the heat throughout the house without keeping a fire lit in all the house's cockle stoves.

In 1935 the first mixing valve was introduced to the market, and "Skogsfors Bruk" was shortened to ESBE (S and B). This first shunt valve was very durable and was not decommissioned until 1995 – after sixty years of usage!
At the end of the Second World War, there was a huge need for new improved residential housing throughout Europe and demand for ESBE's mixing valve greatly increased. Over the course of 1939 to 1949, some 40,000 valves were manufactured at the Reftele plant.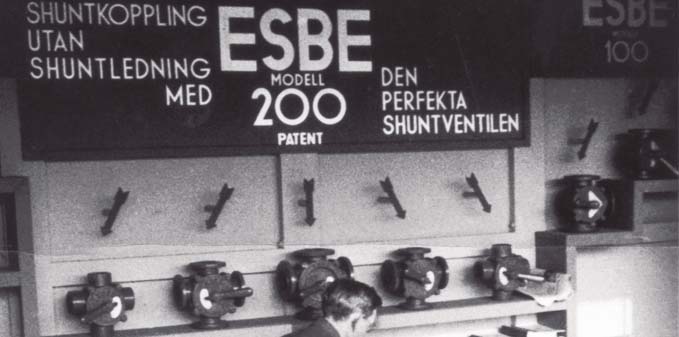 New products gave a leading position in the market
Thanks to lucrative collaborations and our own in-house product development, the ESBE shunt was soon fitted as standard on many oil-fired boilers all around Europe. So many that eventually the valve's fastening became the yardstick and standard for the industry. The shunt valve was eventually automated using a motor that was connected to a room thermostat that regulated the temperature. By means of a new Swedish building standard, limiting tap water temperatures would reduce the risk of scalding in households. Thermostatic mixing valves saw the light of day – and it was the start of a new product range for ESBE. Additional new products followed and in 1992, ESBE launched an actuator called M60. The actuator became a success when mounted on an energy-efficient MG shunt valve series. There was now a compact motorised mixing valve on the market, which was well-suited for almost any small heating system. With this product launch, ESBE became a market-leading manufacturer of complete actuators control devices. And in that way, ESBE grew. ESBE's business concept is to assist its customers to provide property owners in Europe with the market's most resource-saving products and solutions for regulating heating and cooling in hydronic systems.
Employees are a very important part of the success
When a company with ESBE's history stays in the region, personal ties are formed. Many of ESBE's employees, like the owners, have worked for a long time at the company. As part of ensuring that ownership would remain both in the company and the region, the employees were offered the opportunity to purchase shares in the company. As a result, 20% of the company is owned by the employees. A team effort that bears fruit and establishes a wonderful close-knit community. Presently ESBE consists of some 200 dedicated, full-time employees throughout Europe and the Group has a turnover approaching EUR 45 million. The company's products are offered for sale in more than 50 countries. We've summarised it all in our tagline: Swedish Hydronic Solutions Since 1906.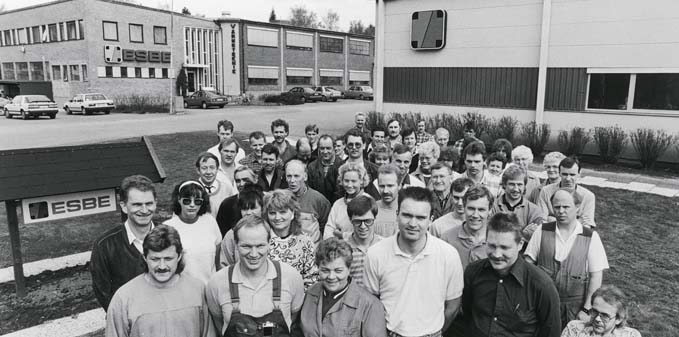 Would you like to read our Centenary Report?
Facts about Johan August Skogsfors
1880 to 1944 (to age 64).
Born to a farmer's son with the surname Pettersson – but his great ambitions and clear visions took him away from the farm.
Family: Wife Julia and eleven children together
Founded Skogsfors Bruk (ESBE) in 1906
Interests:
Travelling, cars, languages, garden, family, humanism, religion, technology and solving problems

Curiosities:
Learned to play the church organ by studying the cantor's work during the services.
He became so proficient that he often played organ in the church if the cantor had other obligations. He also had an organ installed in his office room at home and he enjoyed playing there as a form of meditation.

To be able to deal with the export contacts, Johan August learned English and German on his own.

There was no electricity available in Reftele when Johan August founded Skogsfors Bruk, so he took matters into his own hands and purchased a mill grinder plus a lumbermill with a waterfall. He built a power plant that there supplied the plant with electricity. After a few years, the power plant supplied Reftele with electricity.

Famous saying: "No new idea should be released to the market until it has first been tested in its own home soil."